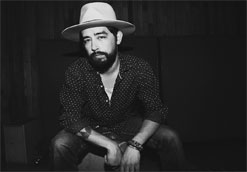 If you can judge a musician by the company he keeps – and we believe that's a good place to start – then Jackie Greene is pure rock royalty. The Northern California singer-songwriter has played with the Black Crowes and Gov't Mule, and toured nationally with BB King, Mark Knopfler, Huey Lewis, Buddy Guy, and many other legends. He's appeared at Bonnaroo, Outside Lands, Gathering of the Vibes, Mountain Jam, and accompanied Joan Osborne and Steve Gorman in the supergroup Trigger Hippy. Most notably of all, he's a favorite collaborator and sideman for several veterans of the Grateful Dead, including Phil Lesh and Bob Weir; Weir, who ought to know, has even called Greene "the cowboy poet of Americana and Blues".
But even if Greene's resume didn't contain any testimonials from friends in the Rock and Roll Hall of Fame, it would still be worth shouting about. For two decades of recording, Greene has pursued a singular fusion of rock, blues, American folk music, country, and, on occasion, some classic pop, too. His lengthy discography is a record of that chase – his nine albums are filled with smart, sharp rock songs that nod respectfully towards their inspirations but provide plenty of latitude for personal expression. American Myth, his landmark 2006 set, drew comparisons to Springsteen, Dylan, and Dire Straits; The Modern Lives, Vol.1, which was released last year, was praised by the San Francisco Chronicle for its dazzling demonstrations of musicianship.
Now comes The Modern Lives, Vol. 2 – both an extension and a realization of the musical ideas on its companion EP. "Crazy Comes Easy", the single, is quintessential Jackie Greene: it's a punchy, fiery slice of blues-rock with a searing lead vocal. And just as Greene is an unusual kind of star – more substance than flash, a far greater emphasis on honesty than showbiz-style smoke-and-mirrors – he's picked a refreshingly different kind of lead actress for his clip. The star of the "Crazy Comes Easy" video is the coolest old lady you've ever seen: a rock and roll grandmother with charisma and exuberance to burn, a broad and welcoming smile, and an outrageously flamboyant wardrobe. She's got some magical powers at her disposal, too. Wherever she goes, the dull, black and white world bursts into glorious color.