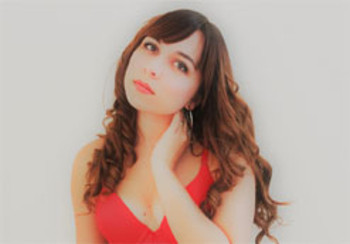 Melanie Heide, who performs as Azmeryth, is an enigmatic 24-year-old indie dream pop artist with a clear vision constructed in illusion and fantasy. Not afraid of breaking the barrier of what it means to even exist, she can be described as anything and everything all at once. She has evolved throughout the years to create a perfect image that encapsulates how she views herself on and off stage. Azmeryth isn't an alter ego but rather an extension of herself; she describes herself as "not a person, and it's not exactly a thing either." She presents herself as something that isn't tangible- creating a mystery around her that can seem ambiguous while playing with dark themes. Truly a chameleon, she can shift and change but her transparency is what sets her apart from other visionary artists.
https://www.azmerythmusic.com/
Originally from the small border town of Del Rio, Texas, Melanie Heide was inspired by and inherited her passion for music from her dad at an early age. Her father is a musician who grew up listening to progressive rock from the 70s and still preaches its gospel truth. Being raised by creative minds leads to imaginative children, and Heide started singing before she could even speak English. She started writing her own songs by the age of twelve and joined choir that same year. She was highly respected by her peers and remained in varsity choir until her high school graduation. In 2012, she began studying at The University of Texas at Austin, where her struggle with feeling out of place finally came to a close as she joined a classic rock cover band as the lead vocalist. After two years, Heide left the group to continue developing her own music. It was during this time that she created her newfound project/persona, Azmeryth. Her greatest musical influences include but are not limited to Beyoncé, Pink Floyd, St. Vincent, and Marina and The Diamonds. Experimentation is a central theme in her discography, and fashion is certainly highlighted in her video as well. She has always had an inkling towards the visual arts, dabbling in painting and drawing, and does not believe in trends. She has lived many different lives as a prep, a scene kid, a hippie, and a nerd, but she is always herself in every sense in the term.