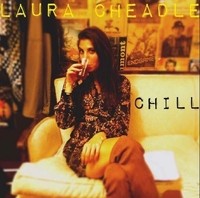 Laura Cheadle is not one to just kick back and do nothing but rather she is a fierce, go-getter with a pedal-to-the-metal-type attitude.  But, Laura Cheadle decided to ease off the accelerator and slow things down a bit on her latest release, 'Chill'.  The title of the record matches the mood & tone of the entire album as Laura puts the listener in a state of deep relaxation.  Even on the cover, one will view the elegant Laura Cheadle calmly sitting on a sofa while sippin' on a drink.  Now, onto the tunes and sweet sounds of serenity!
This album features 8, well-constructed songs that are all performed flawlessly by Cheadle and her Family Band.  Whether you dig Pop & Rock or Blues and Soul, Laura is giving you a taste of it all on 'Chill'.  The first track, "Reverberate", has such a smooth flow that is alluring and Laura seems to sing in a sort of seductive, sultry manner.  The next number is no different as "Good Morning, I Was Born Today" is like Butta where there appears to be a soulful sweetness to Cheadle's voice.  Next up, "I Was Made To Love Her", showcases Laura and her band digging deep.  On this track, Laura is putting a spell on you with the way she performs and is feeling every inch of this song.  Track four, "See The World With Me", showcases tender whispers in your ear that are simply intoxicating and extremely delicate.  "Fooling Around With New Souls" is "Like a Candle in the Wind" —(Elton John) where Laura is burning the flame of pure desire and pleasing melody.  Track six, "Conversations In My Mind", has a very catchy Pop/Rock feel 'n' beat that has radio appeal written all over it.  Next, the listener will hear Laura & company doing a completely original cover of the popular Supremes song, "You Can't Hurry Love".  This version is nothing like The Supremes or even Phil Collins at that matter as Laura Cheadle and her Family Band put a unique spin on the hit single.  Giving the classic song that Classy Cheadle Touch, "You Can't Hurry Love" has a sensitive, slowed-down tempo that moves ever so lightly but with the utmost precision in place.  I enjoyed this cover of the classic hit as the silky 'n' smoky atmosphere could make a perfect addition to one of those hip, jazz lounges of yesterday or Today.  The album ends on a high note with "Cauliflower Clouds" where this song is so true and pure-sounding.  This is one satisfying listening experience thanks in big part to Laura singing & performing with such style, grace and sincerity.  I also enjoyed the instrumentation and wonderful arrangement on "Cauliflower Clouds".
This is one album you don't want to miss because Laura Cheadle and her Family Band will captivate you with the "Easy (Like Sunday Morning)" —(Commodores) vibe in full effect.  Be prepared to 'Chill' out and in the words of The Eagles just "Take It Easy".  Laura Cheadle has tapped into a hot element here that is downright infectious and just feels so damn good!
By Jimmy Rae (jrae2@att.net)