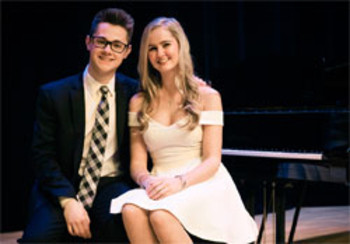 By now, if you're in New Jersey or anywhere near it, and if you've got a propensity for catchy, sharply-written piano pop, you surely already know John Paciga. Other Side Of Town, his recent debut album, startled with its freshness and its ambition: here was a set that sought to establish Paciga as an heir to the tradition of Elton John and Billy Joel. There was plenty of Broadway grandeur in his playing and writing, too, along with the compassion and abandon associated with newer, punk-influenced piano pop-rockers like Andrew McMahon and Ian Axel of A Great Big World. Yet the most astonishing thing about Other Side Of Town may have been John Paciga's age. He was only 17 when he made it – still a high school student, in other words – and as of this writing, he still hasn't graduated (he's due to don the cap and gown in a week).
For his latest single, he's joined forces – and voices – with another prodigiously talented teenager. Singer Charlotte MacMurray has already been the focus of local attention: she's been the subject of feature stories in the Morris Daily Record and Morristown Green. We're sure you'll agree that her voice is bound to carry her far beyond regional notoriety. It's a voice meant for the stage – one designed to provoke the same powerful emotional response in the back seats of the theater as it does for the people up front. Much like Paciga, she radiates commitment: to the theater, to the song she's performing, to music itself. They'd be natural collaborators even if they weren't fellow performers in the Delbarton Abbey Players theater company in Morristown, New Jersey.
They've chosen a song that plays directly to their strengths as interpretive performers – "The Prayer", a showstopping ballad by David Foster and Carole Bayer Sager that was nominated for an Oscar for Best Original Song in 1999. In its best-known version, "The Prayer" was recorded as a duet by pop-opera singer Andrea Bocelli and international superstar Celine Dion. Dion, Bocelli, Sager, Foster: these are gigantic names in entertainment, and it's a testament to the confidence of these two teenagers that they're eager to play at this level. There's no sign of intimidation at all in their version. Instead, they own the material completely, and Paciga, whose piano playing is typically flawless, even sings Bocelli's verse in Italian. And it wouldn't have been appropriate to shoot the video for this performance anywhere other than the Delbarton auditorium – a place where they've both excelled, but which won't confine their mammoth talents much longer.