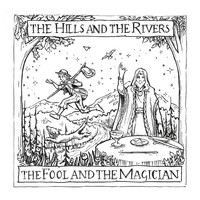 The Hills and the Rivers dive headfirst into a lush timeless folk with "The Fool & the Magician". Keeping things to the essentials, the Hills and the Rivers allow their acoustic instruments to sing up into the sky. Doing everything with the utmost of care and taste, their carefully-considered arrangements recall the ambitious togetherness of Fleet Foxes alongside the slight experimentation of Beirut. Over the course of the album a journey emerges, one that feels fully realized and whole. By far the true heart and soul come from the tender lyricism that adorns the majority of the album. Quite deft storytellers, they go for a sort of sprawling ambition. Elements of gypsy, country, the blues, and more are filtered through their unique vision.
https://thehillsandtherivers.bandcamp.com/
After the short interlude of "Zero" things begin in earnest with the ramshackle rhythms of "The Fool". Wild and spirited, "The Leap" contains multitudes. Nimble guitar work graces the rich resonant strings of "The Road". Sounding akin to a Gregorian chant of sorts is the infinitely joyous "Mmbop". By far the highlight of the album comes with the highly reflective ambitious of "Middle Garden" where the Hills and the Rivers prove to have a deft ear for melody. Keeping things in a hushed awe is the spacious intimacy of "The Valley". Opting for a soothing close is the fantastic "The Magician".
http://www.thehillsandtherivers.com/index.html
With "The Fool & the Magician" the Hills and the Rivers create a fully realized world, one that has a cinematic, playful fervor to it.
By Beach Sloth