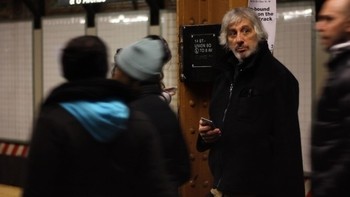 Experimental rock quartet Hifiklub and American musician Lee Ranaldo have today announced the release of their long-awaited film and music project, In Doubt, Shadow Him!
A portrait in both film and music of American musician Lee Ranaldo, the 49-minute film In Doubt, Shadow Him! takes the form of a visual 'drift' in the city where Ranaldo lives and works, and which he has seen evolve from the underground on up, for 30+ years: New York City.
Over several days a film crew shadowed Ranaldo, bearing witness to meetings and conversations with personalities we recognize from the worlds of music and visual arts. These brief discussions–which float in the ambient hubbub of the city streets, through a maze of subway corridors, recording studios, artists' lofts, and various workshops of Ranaldo's friends and collaborators–narrate his personal and musical history.
Presented here is the film's soundtrack, composed by Ranaldo and experimental rock quartet Hifiklub during filming of the movie, and then recorded at Echo Canyon West in Hoboken, New Jersey. Interestingly, while Ranaldo does play some guitar on these tracks, his concentration for this project was on the lyrics and vocal performances, including a duet with Sarah Register (Talk Normal) on "Pure (Take Me First)."
(Lee Ranaldo, Union Square Station L train platform, Manhattan; credit: Jean Loup Faurat)