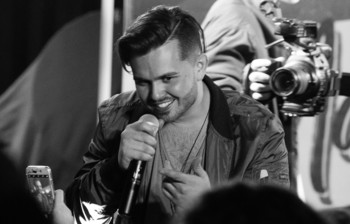 A new week is upon us on this Sunday morning. We are so excited to get to hang with Matias. Matias is an American / Colombian crossover pop artist bridging the musical divide of Reggaeton and American Pop. He has just released a few new singles and is gearing up to make 2018 a big year for him. Matias has opened for some familiar names, like Aaron Carter and Ryan Cabrera and Cody Simpson plus his latest single "If You Only Knew" has been building traction on Spotify. Join us on a Sunday as you sip your morning coffee or tea and discover the future of music with Matias.
@skopemag: Where are we talking from today and are you ready for summer 2018?
M: Hi everyone, today I am hanging out at home in Pennsylvania. I am definitely ready for summer 2018, loving the weather and excited to start connecting with some new fans at the shows I got lined up.
@skopemag: Being that you are American / Colombian how do you feel about the US immigration situation and separation of children and parents?
M: That's a heavy question and one I can relate to in some ways but that is for a different story. In my opinion what's been happening at the border is totally unconscionable. The emotions that these children and parents must endure when being separated must be terrifying. We are treating human beings like they are cattle, and it's totally uncalled for! Immigration in this country is a very tough issue to discuss and not one that I can truly express my full range of emotions in such a limited amount of time. I think the point is no matter where you stand on immigration from a political standpoint we all must keep in mind one important thing these "illegal" aliens are HUMAN BEINGS. In another time and place that person trying to cross the border could very easily be your mother, father, sister, or brother.
@skopemag: Can you offer insight into some reasons why hundreds of thousands from Latin America will travel through hell to escape their homes?
M: I can't speak for all of Latin America, but I can talk from my experience in Colombia. Latin America is filled with beautiful culture, traditions, foods, and most importantly people. Which is why I love spending time in Colombia and usually spend half of my year there and the other half stateside. I think the reason why people are fleeing their homes varies from case to case. Across many Latin American countries you do find issues such as major economic inequality, corruption, and conflict. I think it's because of these issues people are fleeing their homes to try to find something better. They are searching for hope and opportunity. Just the same as the immigrants who fled their homes in Europe and braved the Atlantic Ocean to escape famine, war, and religious prosecution. What we are seeing is the same repeating cycle we have seen since this country has been founded. A group of people simply looking to improve their lives and seek out new opportunity.
@skopemag: I love your name, Matias. Is that your real name or an alias and how did that fit your music & persona?
M: Thanks, well Matias isn't actually my real name. Matias was a name I came across during the process of creating my latest record in Bogota, Colombia. The meaning behind the name actually means "Gift Of God", I chose this name because I feel like my ability to create music is something that I have been blessed with so why not honor that with a strong name. Another purpose behind this alias was I wanted a name that would be easy for both my English speaking and Spanish speaking fans to be able to pronounce and understand. Matias is the side of me that embodies and represents my years of dedication and passion for all types of music and my love of performing.
@skopemag: Growing up what two artists/bands had the most impact on you and why?
M: Well this answer seem a little crazy considering the kind of music I am doing, but I would say two artist that had a major impact on me growing up were Nirvana and Michael Jackson.
I'll never forget I was about 13 years old when I heard my first Nirvana cd. I was going through some tough times as I am sure pretty much every teenager does and I found the Nirvana "Nevermind" cd in the mail. To be honest I think my mom ordered it ha, but I started listening to this band and I became intrigued how these guys from Seattle created this cool no sh*ts given kind of sound, and it was awesome! Keep in mind before I heard Nirvana I was mainly listening to classical music and Frank Sinatra. It was Nirvana that really set me down the path of trying to create and experiment with all kinds of different music styles and genres. They also gave me the confidence to never fear trying something different and break the path of what is considered the "norm".
Michael Jackson is hands down the best performer in history. His ability to engage an audience and control the energy he possessed is such an amazing gift. After watching videos of Michael's live performances I knew this is where I set the bar and this is the level of performer I strive to become. Michael has and will continue to be my idol as a performer.
@skopemag: When you are getting ready to write music what setting & mood is best for your creativity?
M: About 2-3 AM in the morning in a comfy cool room with ambient lighting and no distractions. To me that's creativity paradise.
@skopemag: You are really putting out some amazing new singles from 'Wildside' to 'Addictive.' What are you hoping to show the industry and fans alike?
M: Thanks I appreciate that. My goal is to show the industry and fans that music can be fluid and doesn't have to be put in a boxed genre. My creative process behind some of the latest singles has been to highlight the rhythms of Reggaeton and Latin music and incorporate lyrics in English and Spanish.
Right now I feel there is no new artist that have really taken over the crossover market. The last artists that come to mind that really understood bridging the divide between the Latin and Anglo market was Ricky Martin and Enrique Iglesias. I would love to take this opportunity to blaze the path and fulfill this underserved market in my own kind of way.
@skopemag: You have opened up for big names from Cody Simpson to Ryan Cabrera to Aaron Carter and many more. What did you learn from watching how they operate and are they humble and nice to up & coming artists?
M: The biggest things I learned from opening for these kinds of acts is that you must have a great team, remain humble, and really passionately care about your fans. These are all things that I've been building around my self and reminding my self of every day to ensure that I can reach their same level of success.
I think this is also a great time to give a shout out to Eugene Foley of Foley Entertainment who has recently joined my team. Without him we wouldn't be having this convo today. As far as how these artists treat up & coming artist, I have yet to meet someone who wasn't very approachable and very nice to me.
@skopemag: I love how your sound is upbeat, fun, and catchy. How do you choose what instrumentals you will be able to turn into a hit?
M: Thank you, well this is a process that I usually work on with a producer. I tend to gravitate toward melodic type instruments like guitar and piano. I really like to build a melodic idea so that the track is always playing with my vocal melody. With the help of some amazing producers like my friends JuanDa Morales and Jorge (Pyngwi) Holguin, we have been able to assemble these really awesome songs that always compliment the top line melody, I create with my team of writers like Rich Rivera and Andy Gomez. I can't stress enough it takes a team to create a hit!
@skopemag: When you are not making music what else do you enjoy?
M: When I am not working on music I really enjoy spending time with my dog Mila and traveling.
Music really makes me happy, so I guess can't say I have many hobbies.
@skopemag: What is coming up for Matias and where you @ online?
M: At the moment I am preparing for the release of my next single "Addictive" that will be dropping sometime in late July. If you liked Wildside and If You Only Knew, then I think you will love this song. I am also working on booking some more shows for the summer and fall.
You can find me online at the following:
Instagram: www.instagram.com/matiasmadeit
Facebook: www.facebook.com/matiasmadeit
Youtube: www.youtube.com/matiasmadeit
Twitter: www.twitter.com/matiasmadeit
Website: www.matiasmadeit.com
I love social media so if you are reading this, don't be shy – stop by and say hi.