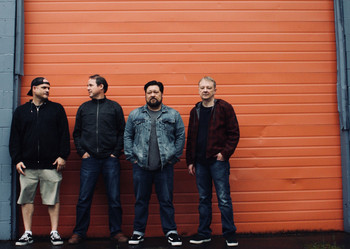 So we are so excited to have Sundodger here on @skopemag on this first day of summer 2018. This is the longest day of the year so we have enoigh time to read and listen to this awesome band. Sundodger is a Seattle-based album oriented rock band. They blend classic guitar rock with elements of punk and new wave to create a unique sound. They have so much going on so lets jump right in.
Hi Dan, welcome to Skope Magazine. How have you been?
Been great, but really busy getting ready for our record release on July 3rd. We've got a limited amount of vinyl that we've pressed, so we're really excited about that.
Can you talk to us more about your song/single Like Me?
It was a song I wrote a couple years ago and it actually took some time for the other guys to understand what the hell I was trying to do. It's oddly constructed with some strange chord changes, which was probably the main problem. Lyrically, it's really kind of a love song about two flawed people who want to escape to a better place. They have aspirations and dreams but are wary about how to do it.
Is the song posted on Youtube, Spotify, Soundcloud, etc so we can hear it?
We've got it up on our BandCamp site, which you can get to at – https://sundodger.bandcamp.com/album/bigger-waves
Did any event in particular inspire you to write this song?
There wasn't a specific event, but it was written in two parts. For most of the songs on the record, I brought in a rough sketch for us to flesh out as a band, which we did with Like Me. But when we got into the studio and recorded it, I felt the song was missing something. So, we tinkered with an additional lead guitar part, which Jeff wrote and recorded in the studio, but I felt it was still incomplete. I asked a friend of mine Patrick Porter if he could listen to the song and write a piano part. When I went over to his house and he played the part to me, I knew that we had the missing thing that was going to complete the song. It was the first time we used keyboards on any song, but I think it turned out great. It led to us using more keys on other songs like Banner Days and Echoes.
Any plans to release a video for the track?
We'd like to do a video, but we've been so focused on producing the record on vinyl that those sort of things have taken a bit of a back seat. It's not really something we particularly like doing. Lip syncing your own song and mugging in front of a camera isn't our thing. I know it's counter-intuitive to self-promotion, but fuck it. Maybe if we don't have to be in it… like an animation video or something? If anyone wants to help, give me a call!
The single comes off your new record – what's the story behind the title?
The title "Bigger Waves" is a lyric in the song Banner Days and Mark felt it was apropos for the record album title. The song Banner Bays is a bitter/sweet song that's both hopefully and somewhat melancholy. And depending on your point of view or circumstance, Bigger Waves can be a good thing or a bad thing.
How was the recording and writing process?
We did all the recording at Studio Litho in Seattle. Shawn Simmons produced and engineered the project and was instrumental in helping us define the sound and tenor of the record. We really took our time in the studio. Off and on, it took about a year to record, mix and master. I'd love to say we're the kind of band that can go into the studio over a weekend and knock out 10 ready to go songs, but that's not us. We had 9 songs that were done and ready to record, but once we got into the studio we all started hearing areas where we could add new parts. It was exciting to be creative in that way but it did extend the process. Echoes, the last song on the record, was written and recorded last. It really wasn't meant to be a Sundodger song, but Jeff thought it should be included. So, I decided to record it live in the stairwell at Studio Litho on Shawn's acoustic guitar and see how it turned out. Don added some cool stuff on the Mellotron keyboard and it became this really interesting and different song really quickly.
Known for playing with different genres – how do you get to balance them together?
We're far removed from our 20s, so I think there is less pressure to conform or feel like you need to fit into a certain pocket. We just don't give a shit. We have influences that span the musical spectrum from Jazz, Metal, New Wave, Rock and Folk. It's all goodness. As long as it's authentic and heart-felt, you'll achieve whatever your art is driving toward.
Where did you find the inspiration for the songs and lyrics?
The tunes are born from just sitting down in front of an instrument and trying to create something that makes you feel something. For me personally, I usually get to the point where I can't leave the spot I'm in until the song is complete. There's a real urgency, almost paranoia for me until I have it down and demoed out. When you latch on to something, the song writes itself. This group of songs have common themes running throughout: relationships, isolation and escape. Technology has tried to make everyone more connected but we're more isolated than ever. It's all superficial connection. We want human interaction but have forgotten how to relate to one another. There are terrible consequences to that I think. For those of us lucky enough to finally find a meaningful connection with someone, you almost want to just grab that person's hand a run away to keep it safe. Those are some of the feelings expressed in the songs.
Any plans to hit the road?
Yup, we've got dates booked in Seattle, including the record release show in July. And we're working on other shows in the Pacific Northwest for the late summer and fall.
What's one thing we'd be surprised to hear about the members of _Sundodger______?
If you ask any one member of the band what song they like the most on the record, you'll get four different answers. When it comes to stuff like that, we're fiercely different and it made sequencing the songs for the record impossible to do between the four of us. We had to go to our producer Shawn Simmons to have him create the song sequence because we couldn't agree on anything. Everyone has a lot of experience musically and different points of view, so compromise is sometimes difficult. It nearly broke up the band at one point during the recording process.
Name one present and past artist or group that would be your dream collaboration? Why?
This is a tough question because each member of this band has really different inspirations musically. But for me it would have to The Beatles. Over the past couple years I've been reading a lot about how they approached songwriting and recording. Obviously, Lennon and McCartney were revolutionaries in that regard. As a songwriter, I'm really in awe how fearless and experimental they were. In a small way, I've tried to adopt the same mindset when in the studio or writing at home. Just try to do something different, whether it is a weird guitar chord or progression. If it doesn't work, maybe it'll lead to something else. Or maybe it will take the song to a new level. Presently, J Mascis would be awesome to work with. He's a genius and somewhat terrifying.
Is there an up and coming band or artist you think we should all be looking out for now?
Thunderpussy is a band that everyone should check out. They're a fellow Seattle band that just released a new record that is killer. They're a band that is on the forefront of making guitar rock great again. Pearl Jam's Mike McCready is a big backer of the band and I ran into Molly and Leah at a place around the corner from our rehearsal space. I was a total fanboy and they were super nice about it.
What else is happening next in your world?
We're going to try to sell some records and have gotten back to writing songs. We're taking a different approach to songwriting this time around, it's much more collaborative and experimental. It's been fun so far.