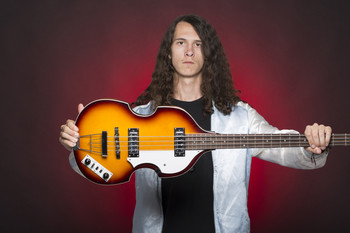 Hatched in Arizona and with wings affixed in California, Satellite Ravens is as close to a one-man band as you can get without the spectacle of someone with cymbals strapped to their knees and an array of whistles around their neck. The creator is multi-instrumentalist, Carson Rohde; his vehicle, the many-headed psychedelic funk gull, Satellite Ravens; the album, a mind-expanding zoo of colourful characters from this world and beyond, from yesterday and tomorrow. The hippy vibes are back for a new generation and lift-off is available any time you're ready.
With Rohdes' behemoth-like bass guitar skills very much to the fore, "The Equinox" has the shuffling, staggering drums of the 90's Madchester scene, but with the day-glo smarts of US bands like MGMT and early Flaming Lips. From the swooning joy of Suffocated, with its Ween-esque mischievousness to the pseudo-mystical Chili Peppers dream-funk of Encircled, each track builds into ever-expanding universe, twisting back on itself and latching onto new rhythms, writhing gleefully as it morphs into an entirely new animal. If Space Rock to you is Hawkwind or Spacemen 3, think again – this is the real sound of the cosmos: playful; intriguing but also joyful.
Rather like the deliberately distressed Yes-like album cover, Satellite Ravens have their tongue somewhat in their cheek, but this belies their huge musical talent and often intriguing lyrical content. With elements of jazz, classical, funk, 80s rock and 90s underground psych, this is an album which grows in magnificence with each subsequent listen. Prepare to follow Satellite Ravens in orbit.