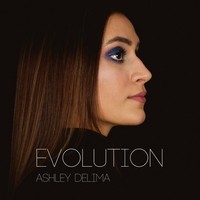 "Evolution" by Ashley Delima leaves you wanting more – more of her voice. At just 19, this New Jersey resident is already on her second single and finding her niche in what feels like a pop rock abyss. She stands out and I have a hunch she will keep rising.
Though born in New Jersey, Delima lived in Brazil from ages 7 -17. Back in the United States and keeping a pulse on to what's happening in history, Delima's previous release "Stay In America" dove into the juggernaut issue of Dreamers. She herself isn't a Dreamer, but the lyrics and powerful song celebrated the passion and voice of those engulfed in the Deferred Action for Childhood Arrival (DACA) immigration policy. She co-wrote the song with Grammy-winning songwriter Marc Swersky (who's worked with Joe Cocker, Kesha, Hilary Duff, Roger Daltry and more) and Brielle Brown.
She's not exactly Pearl Jam, Neil Young, Public Enemy, Lin-Manuel Miranda or even Logic with political protest songs under her belt, but she throws her hat into the ring. I have to give her credit for this.
Now that you know her story and are in-tuned to her aspirations, the song "Evolution" might get lost. After a few listens, you start to realize that you're witnessing an emerging artist with much to say. I don't think the lyrics do this song justice ("what in the world was I thinking when I let you into my heart"). It's not a slam poetry reading. It shouldn't be. She weaves her emotions through a chhh-chhh beeping like mechanism. If you can get past the fabricated music bed, you will dig this song. It's really inviting and engaging. It's a great pop track.
I-TUNES: https://itunes.apple.com/us/album/evolution-single/1373237452
As the song moves along, the backing track (it's not a rock band with guitars, keys, bass and live drum set) pulls you in-and-out. I felt darkness to it, yet I wanted to hear more. Again, it's her accompanying voice that triggers the emotional response. With just a few moments left, the song ends with a pulsating sound. I was hoping for more of her voice! It just seemed to end abruptly.
Fans of Kesha, Hilary Duff, Pink and even Stevie Knicks will be charmed by "Evolution" and Delima. The song has a slow beat going for it, but could still be a nice slow-dance cut. Delima's sensual delivery has you melting in her every word. Ashley Delima receives high marks for a breakout performance and a radio-ready showing.
by Leeland Thomas
Photo by Tallita Dorneles