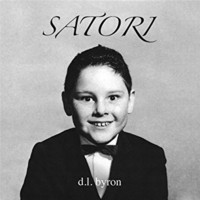 Intense wild energy runs through D.L. Byron's passionate "Satori". Featuring a gigantic, anthemic approach everything about the EP deserves to be blasted at the highest possible volume. A theatrical quality rests right at the very center of it all which runs through the entirety of the EP. Lyrics go for a carefree attitude while everything else neatly revolves around them. By making the storytelling the very heart of it all the EP embarks on a mystical sort of journey, one that feels so earnest and honest. Vocals possess such a tremendous amount of range, going from a commanding presence to something subtler. Humor helps these pieces along for they utilize a strong sense of play both lyrically and instrumentally.
A full-on rush begins things on a high note with the careening "No 1 God". Lyrics collide and are twisted in fantastic, fascinating ways. By far the highlight "No 1 God" allows a fried psychedelic rock spirit to take hold infused with just the right amount of punk ethos. On "Rehearsing For The Future" things slow down a little bit as everything goes for a hazy, dazed quality. Folk punk reigns supreme on the Violent Femmes referencing "All Fall Down" as the arrangement builds and builds in a most satisfying way. Loud and proud, "Everywhere I Go" incorporates a bit of electro into the mix. Closing off the collection, "Everywhere I Go" hold nothing back.
https://www.facebook.com/dlbyronzen/
D.L. Bryon holds nothing back on the feral freewheeling "Satori".