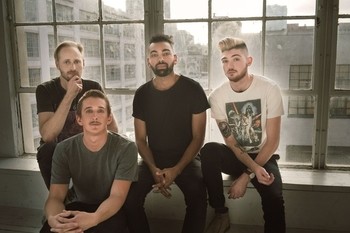 We are so close to Friday we can taste it. We are so excited to get to chat with Kaleb – vocals/guitars, Ryan – drums, Chris – bass, Greg – guitar from the 131ers. These 4 are real busy with the new album "Nothing As It Should Be" and a release party @ https://www.laaleworks.com on June 15th. Lets jump right in!
@skopemag: Where are we talking from today?
Chris – from Ryan's car
Kaleb – on the 405
Ryan – going from Torrance to San Diego to buy a van we think
@skopemag: What is the most current project that you are working on at the moment?
Ryan – well the record is coming out on the 15th
Kaleb – we're working on new singles coming up too
Chris – but also this van thing. Pretty into it
https://itunes.apple.com/us/album/nothings-as-it-should-be/1393140463
@skopemag: Got any music posted that we can stream and check out?
@skopemag: When you began your journey in music were your family/friends supportive?
Kaleb – my parents have been unbelievably supportive. Like almost too supportive sometimes. This band wouldn't be possible without them.
Ryan – mine paid for the pressing of our first album and let us tour in their car for years. Sorry we killed that pig, mom.
@skopemag: What do you think makes some artist/bands resonate with the masses when others do not?
Ryan – there's probably an audience for every artist and an artist for every audience member, but you have to be genuine.
@skopemag: When you are not doing music what else do you enjoy?
Chris – van shopping. We're pretty keen on it.
Kaleb – we also drink a lot of coffee and beer. That's a hobby, right?
Ryan – I think it's an addiction
@skopemag: How much time per week do you devote to music & social media marketing?
Ryan – all of it
@skopemag: Should I feel guilt as an industry insider for paying $10 a month for Amazon Music Unlimited and having access to all music as I please?
Chris – no way. Music isn't how we make the money. Bands have long been traveling t shirt salesmen with a music hobby.
Ryan – we want people to hear our music, however they can.
Kaleb – the less barriers between us and people hearing it, the better
@skopemag: What kind of environment & mood do you feel most creative towards your music?
Kaleb – our warehouse after I've had a couple drinks
Chris – and we're done playing with power tools
Kaleb – I write a lot of lyrics in my car too driving around for work. I'm a handyman, so that's a lot of my time
@skopemag: What is coming up for you & where you @ online?
Greg – June 15th at LA Ale Works in Hawthorne is our album release show (free, all ages). Keep an eye out for West coast tours all summer
https://www.instagram.com/the131ers