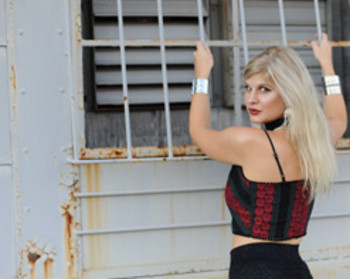 Since the creation of artistic expression, human beings have repeatedly documented a story that will never get old, because it continues to be the most consuming personal experience of mankind. You guessed it, I'm talking about love; and for a southern belle by the name of Faith Evans Ruch, even getting to tell her story was an uphill battle. Her new music video for "I'm Yours" puts a lighthearted tone to an ever-tragic tale and proves this Memphis native's resilliance is just as impressive as her musical prowess.
http://www.faithevansruch.com/
From a young age, Ruch was charmed by the evocative nature of melody and rhythm. Her first crush was on the 6-string guitar, but she was made to settle for the more innocent piano, which she briefly took professional lessons for. Music became more of a pipe dream to her as she got older, so she attended school and became a nurse where she was able to develop her desire to help others. But in 2011, her time finally came. She dropped the gloves, picked up a guitar, and like a waterfall, dumped her heart out into songs. She independently released her country/folk-flavored debut, 1835 Madison, and just a year later, returned with a developmental six track EP entitled, After It's Said And Done.
Around this time, Ruch had fallen deeply and recklessly in love, and she began writing an album in the form of a love letter called Mercy. But three days before she was set to complete it, her relationship suddenly ended and Faith dialed up her producer to call off the record. Then soon after her heartbreak, she fell violently ill with a life-threatening condition. More than just a producer, longtime friend Kevin Houston convinced her to come back after some time with the mentality of finding a way to make peace with the pain in a way that allowed her to still love and finish the record she had spent just about two years crafting. But when she came back to the record, all the songs had different meanings now…so they re-framed the project as the experience of falling in and out of love. With a new track-listing and some slight tweaks, the album became what we know today as Ruch's second LP, Lessons In Falling.