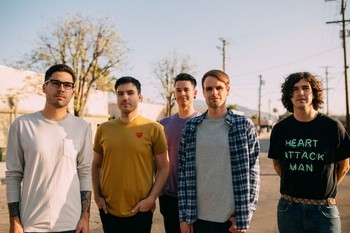 In advance of their headlining run on the final Vans Warped Tour, Illinois rock-group REAL FRIENDS have released their latest single "From The Outside". Produced by Mike Green, "From The Outside" explores Real Friends' frontman, Dan Lambton, struggling to decide right from wrong, and not being able to communicate those feelings to friends and family. The song is an epic follow-up to their previous single "Get By", released late last year.
"This song in particular addresses uncertainties pertaining to not knowing what may be good for you or in your best interest," explains Lambton. "Whether it be medication, drugs, alcohol, psychiatric treatment, etc. and generally not being able to navigate the inner workings of your mind to know what is going on with your mental state."
Photo credit: Megan Leetz
REAL FRIENDS is Kyle Fasel (Bass), Dave Knox (Guitar), Dan Lambton (Frontman), Brian Blake (Drums), and Eric Haines (Guitar).
"From The Outside" can be seen here: