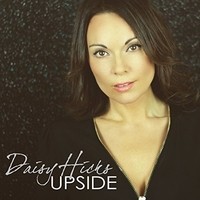 If you've been following jazz's indie scene lately, then you've probably familiarized yourself with the expressively cleansing style of Daisy Hicks, an Australian singer/songwriter whose third extended play "Upside" is sending a shock wave through American and European audiences and getting the attention of critics across the board. A follow up to her slow jamming "I Choose You," "Upside" is an endlessly radiant sample of Hicks more bucolic side, demonstrated through a fantastically casual swing tune coupled with evocative vocals. Sir Piers remixed one the second version of the title track alongside keyboardist Matt Cooper and Incognito's Francisco Sales on guitar, while Ruff Diamond's account is a much more surreal, reggae inspired track. "Upside" offers what fans of Hicks' previous work love the most about her persona, but in a few instances plays with a different, existential direction that is a very intriguing listen for critics and jazz fanatics alike.
https://itunes.apple.com/gb/album/upside-ep/1321592501
Let's start by breaking down the Sir Pier remix. We open with a lot of fuzz, and a funky, almost trip-hop like rhythm that follows us through the entire track. Hicks' vocals make their first appearance, and unlike in the original recording, here her voice doesn't seem as overwhelmed by the keys and other elements of the backing band. If anything, the noisy feedback adds an additional texture to her verse, as if to present us with a grittier, black and white perspective of what we hear on the studio version of "Upside." I think it's significant that she chose to include these three distinct versions of "Upside," but the main complaint I have with this extended play is that it feels like we could have used a couple of other songs to accompany the eponymous track. It might be curious to hear her cover a non-jazz artist and see what kind of eccentric results that could render. The amazing thing about songwriters like Hicks is that they can make their home almost anywhere that they wish, because good composing allows for artists to transcend scenes, genres and eras all the same.
Ruff Diamond's shot at "Upside" is a much more relaxed vibe, dripping with flange and adding a spicy, exotic sample of horns to replace the contemplative, melancholic piano at the heart of the original track. Unlike Sir Pier, Ruff Diamond kills the adrenaline and white noise of the nightclub in favor of basking in warm, rich Caribbean flavored beats and a tranquil soundscapes reminiscent of a south Atlantic beach. It's a marvelously unexpected twist on a jazz song that already has so much complexity and consistency on its own, but this EP doesn't feel like a self-indulgent release by any stretch of the imagination.
If you're looking for some exciting new rhythms and a more melodic take on sophisticated contemporary jazz, "Upside" is definitely a release that you're going to want to pick up. Her next extended play "The Fall" comes out later this month, and if it contains the same rich authenticity of this current release, Daisy Hicks may just be the queen of summer 2018.
https://www.amazon.com/Upside-Daisy-Hicks/dp/B077Y87R3Q
Trace Whittaker