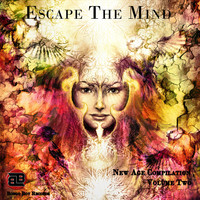 STEEL goes for a mellowed atmosphere with the luscious "Tranquilo". Aptly named, STEEL explores the nuance of Vaporwave in such a careful, considered way. Melodically dense everything shifts with such deliberate care.
Going for a playful disposition is Mike Surratt's joyful "Aquarium Screensaver". A wide variety of styles come into the mix, from folk to ambient all done with such gentleness. Quite dreamy the piece seems to evolve in such a natural fashion.
Mysterious with a futuristic sort of acid jazz vibe, Kobi Arad's "Belonging" has a classic cool to it. Hard to pin down, Kobi Arad creates a perfect fusion series of styles. Without saying a word, an entire journey emerges on the piece.
"Love Song" has a tenderness to its tones courtesy of Yona Pax's attention to a gradual buildup. Framed in a nearly classical way, everything about the piece has a sweeping elegance to it. At times, the song even veers into a cinematic scope to it.
The surreal stylistic mash-up of Tawangher & Weber's "Distorted Time feat. Emilia Lopez-Yañez" has a naturalistic rhythm to it. Hard to precisely pin down, elements of the urbane and the pastoral come together to merge as one. Gorgeous melodies grace the entirety of the proceedings.
A fantastic take on folk emerges with Deborah Henriksson's "Share This Moment". Her voice soars up into the heaven. Everything about the work offers a sunlit lightness to it.
Erin Jacobsen's "Praise" goes for an angelic take on modern classical. Featuring wordless vocals, the entirety of the piece feels so positively stately. By letting things unfold leisurely the song successfully captures a reflective aura.
Max Highstein delves into a mystical realm with the gracious "Earthtones". All about the work goes for an understated kind of soothing atmosphere. From the playful piano to the jazz-like drums, everything explores a loose sort of structure.
"Northern Lights" chooses a quiet celebratory spirit, as Triskelion lets everything unfurl with a dazzling display of color. Entire universes come into view over the course of this drone-tribal-classical mixture. Wordless vocals further lend it a sense of humanity.
True tragedy and beauty emerge on Shea Welsh's "John's Lament-Straight Into Heaven". With such carefully considered gestures, the whole of the work lingers in the mind long after it has ended. Completely wordless the song creates an unspoken narrative.
An entire psychedelic journey unfolds with "Mystic Message" showing Brooks & Day to be true masters of their craft. The electronic and acoustic flow effortlessly together. By letting things intermingle it becomes a strong, coherent vision.
Ending the collection is Claudio Casanueva's blissful "Starseed". Akin to a waking dream, "Starseed" has a cosmic lullaby quality to it all. Through this fantastic trip, the whole piece radiates a peacefulness.
Official Web Site: https://bongoboyrecords.com/escape-the-mind-vol2/
By Beach Sloth