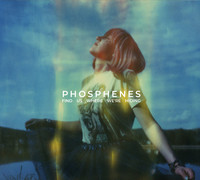 This German band first formed in 2017, but a connection had long been established between its two prime creative movers composer/producer Harry Starbuck and singer/songwriter Julee Bee. The two first met many years before when Bee, then a freelance music journalist working for a publication, interviewed Starbuck about one of his earlier projects. They discovered an easy rapport, particularly on the subject of music, and it isn't a stretch at all to say what we have with their debut. Find Us Where We're Hiding is an eleven song collection culling its sound and structures from myriad influences, including rock, pop, and electro, among others. They drafted guitarist Florian Walther, a member of the live band for the global television hit The Voice, to help further flesh out and add color to the songs. PHOSPHENES conjures tangible atmospherics with their first release and there's a strong theatrical quality to their art, but there are songs of real substance distinguishing this release as, potentially, one of the year's best.
https://www.phosphenessounds.com/
PHOSPHENES wastes no time introducing listeners to its sonic template. The opener "Boy in the Hood" shows how deftly they mix pop influences with an unusual method for developing their performances; it is well after the one minute mark of "Boy in the Hood" before the song kicks in fully. It's a supremely well built tune that ends as it begins and has a well rounded quality you can't help but admire. "Girls Trip" has a much stronger pop spirit than an experimental edge, but it does an excellent job of incorporating the electronica aspects of the duo's sound into this decidedly more commercial direction. The first instrumental on the album comes with the third tune, "People You Love Become Ghosts", and it's commendable how Starbuck conjures an identifiable mood without ever over-empathizing the duo's musical and sonic strengths. It's equally impressive how you won't find yourself considering this a lesser cut due to the absence of vocals; it's entertaining and attention-grabbing in a much different, but as valuable, way.
"Heaven Looks Alright" begins in a similar manner to the opener, but this song builds in a less deliberate way and has a much clearer vocal track than the earlier "Boy in the Hood". It's one of Julee Bee's finest vocal performances and the lyric is particularly distinguished thanks to the wealth of concrete details contrasting nicely with the wafting, dream-like arrangement. Florian Walther's presence is felt at different points during the course of Find Us Where We're Hiding, but he takes a central role to great effect in the late instrumental "Galaxy Jump" and the psychedelic workout pushing its way through the mix matches up nicely with the duo's customary use of electronica. "Orange Vox" introduces some interesting percussion touches that we hear elsewhere on the album and it's highlighted by a profoundly emotive Bee vocal with minimal production effects applied over it.
There's great tension in the album's closer "One Trick Pony" coming from the nearly imperceptibly uptempo beat at the song's foundation and the luxurious, patient manner the duo's synthesizer and other instruments develop their ideas in a much more patient way. It makes the song stand out from the first and the track, likewise, adopts a consistency of approach shared by few other tracks on the album and, therefore, making it a near ideal vehicle for concluding their first studio release. There will be more to come, rest assured, and immerse yourself in this today.
SOUNDS VENLO: https://www.sounds-venlo.nl/phosphenes/find-us-where-we-re-hiding_9423978.html