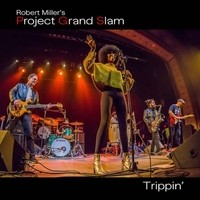 Project Grand Slam goes for a wild stylish jazz-funk hybrid with the infinitely playful experimentation of "Trippin'". A true blast, everything works wonders, from the fanfare to the limber guitar work. By far the true soul and fire comes from the incredible rhythm section, which helps to anchor the whole thing. Cleverly, Project Grand Slam knows when to let loose allowing their instincts to take hold. Multiple layers work together to create a futuristic, fun kind of communal celebration. Vocals add a tenderness to the proceedings, with their silky feeling further emphasizing the lush tapestry of color.
"1972" opens the album with considerable style while it runs the gamut from psychedelic rock to unhinged experimentation, all as the rhythms propels it forward. Jumpy, peppy keyboards grace the gorgeous "You Started Something" which has tremendous amount of giddiness to it. Quite nimble "No No No" has a cinematic flavor to it featuring a tremendous degree of energy. A sly groove weaves its way throughout the title, the potent "Trippin'". Over the course of the piece Project Grand Slam holds nothing back. Sparkling chords rise above on the intimacy of "March of the Diplomats". Volume deserves to be blasted for the careening "I Can't Explain". Cool and confident "Ride 'Em High" opts for a serene scope, featuring impeccable saxophone work. Concluding the album on a reflective note is the low-key "Cousins".
Timeless and tasteful, Project Grand Slam explores a unique world on the epic journey of "Trippin'".
https://www.projectgrandslam.com/
By Beach Sloth