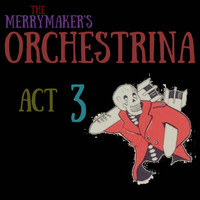 The latest release from New York City based The Merrymaker's Orchestrina, Act 3, showcases vocalist/songwriter and guitarist Ryan Shivdasani's talents in a gripping way. The trio now includes the aforementioned Shivdasani, bassist Daryl Chen, and drummer Sal A. Mander, though the album's personnel differ save Shivdasani's constant presence. The two new members will likely bring every bit of the same chops and creative sensibilities needed to flesh out and complement Shivdasani's breathtaking mix of different musical styles into something deeply individual and singular in its achievement, Produced by Russ Flynn, Shivdasani's songwriting never overreaches despite its obvious ambitions and hangs together as both a cohesive song cycle and a potent collection of standalone tunes. The Merrymaker's Orchestrina's Act 3 is one of the most impressive releases in recent memory, not just 2018, and immediately establishes the band and Shivdasani as formidable and promising talents on the scene.
BANDCAMP: https://themerrymakersorchestrina.bandcamp.com/releases
There's a definite design to the album becoming apparent with a bit of time and multiple listens. It opens with a raw blast of post-punk energy, "Together", scarcely clearing the 90 second mark and showing off the musical dexterity that's a hallmark of this project./ Jack Reford's bass playing is especially powerful on this tune; it's telling they lead with it and his skills set an early, authoritative tone for the album as a whole. The album's first two "full length" songs, "Particle Craze" and "Watched You Out My Window" are crackling guitar works out revealing further depths to Shivdasani's six string skills that "Together" hinted about at best. The former is a much more atmospheric work, achieving its effects through accumulation rather than betting its fortunes on any particular musical element while "Watched You Out My Window" is one of the album's earliest peaks with its lightly melancholic guitar melody leading the way, but it's a complete band performance with a great vocal capping it off.
Another high point comes with "East of Eden". It's one of the album's longer tracks, clocking in at five minutes, and has a deeper level of gravitas than anything preceding it. It can be accurately described as a guitar showcase, but don't let the word showcase confuse you into thinking this some sort of quasi-virtuosic display of technical chops. Shivdasani and his collaborators avoid any self-indulgence here and elsewhere. "Cowboys and Indians" returns us to the more condensed compositions of the early songs, but Shivdasani and the band have a talent for encompasses enormous feel and color into these relatively abbreviated tunes. It is nothing less than career defining that Shivdasani is on such a clear creative roll with the aforementioned songs. Few artists can hope for a better start than he achieves with Act 3's first five songs.
He keeps the pace up. "Enemy" and "Slip Away" is a jaw-dropping duo illustrating how adept Shivdasani and his cohorts are moving from, arguably, the album's finest expression of its spartan and biting guitar attack with "Enemy", coupled with one of Shivdasani's best lyrics, into the near-Americana trappings of "Slip Away" – yet maintaining the same lyrical identity between both songs. The album's longest track "In This World, Not Of It" touches on some primal themes in popular music, particularly rock, running back to the earliest days of Presley, Jerry Lee Lewis, Chuck Berry and this muscular, taut ode to being different rates high on the release. It's a wicked good outing by any standard with songs that are challenging, yet accessible.