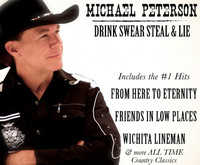 Who is Michael Peterson, and why haven't I ever heard of him? Okay, I can't say that I am the greatest aficionado of country music, but I know the big names, the old standards and a few slightly off the wall artists that might make some people cringe. But, when I had the chance to listen to Michael Peterson ' s new album, "Drink, Swear, Steal & Lie," a new release as of March 21st, 2018, I was wondering why this artist was not part of the country lexicon. 5 number 1 hits? 18 studio and live albums? 2500 performances in 19 countries with a two year run in Brandon, MO? Songs written for some truly big names, in a variety of genres including gospel? This guy seems to be a hidden treasure like a certain baseball field found in a certain corn field. And, it makes you feel just as much at home as a field of dreams.
Let's just say it outright; the songs are good. Very good. His voice is as clear as the Liberty Bell. The production value is made to showcase the singer and nothing else. What Mr. Peterson is doing is recreating a feeling from 30 years ago, when country music was the bastion of family values, not some sort glorification of drinking and doing strange things with badonky-donks. There are covers of favorite classics from the positive days gone by. There are new songs that are relevant to today without lowering himself to topics that might be easy pickings for popularity. There's even a little live ditty that will brings smiles to all. If there was one thing I could wish for, it would be more new songs written by Mr. Peterson, even though his extremely thoughtful choices of country covers are very endearing, and are assured to get at least your toe tapping if not mouthing the words.
To top it all off, Michael Peterson is a man amongst men. He has helped schools in his home state create positive circulars for high schools, and received many philanthropic awards such as the Bob Hope "Spirit of Hope" award from the USO, for playing for our honored heroes of foreign wars while overseas on deployment. This is what I want to see from my country songsters – good men doing good things for good people.
Since "Lookin' for Love" is already a hit in the European market (who new Europeans wanted their babies to grow up to be cowboys!"), Mr. Peterson has already booked a European tour including stops in Poland, Lithuania, France, Germany and the like, it might be quite hard to see Mr. Peterson soon, but I promise it will be worth the wait.
Buy it, download it, play it, share it, enjoy it, two step to it, share it with your children, I can't really say enough good things about this album. You won't be disappointed.
AMAZON: https://www.amazon.com/Drink-Swear-Steal-Lie/dp/B003A9158E
5/5 Stars
Steve Cohen