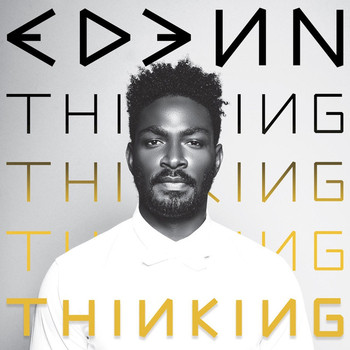 The popularity of lyric videos, for the most part, depends on the inherent worth of the lyric they visually depict. There's no question that's true for Edenn's new single and accompanying video "Thinking", but Edenn doesn't stop there. His lyric video for "Thinking" pairs the writing with often breathtakingly beautiful imagery gathered around an aerial theme. We are treated to many eye-popping shots of the earth below taken from aircraft far above and the transitions between each new shot of imagery is rarely rushed, instead allowing our eyes to linger over the imagery and make our own connections to the lyrical content. It's an excellent concept and few, if any, will quibble with Edenn's execution. The song runs a little over three minutes in length and it proves to be an ideal length for this marriage of the aural and visual. The warm grooves of Edenn's track and lustrous video are a potent combination.
Edenn's confidence is reflected in the music – "Thinking" is a song full of desire, but it never needs to shout or beat its chest. Instead, Edenn shows he can be a master of understatement as he focuses on blending his vocal in with the smooth, lightly finessed arrangement. The arrangement, as is the wont of this particular style, relies on electronic instrumentation to lay down a foundation for Edenn's singing, but the music escapes the long-held complaint against this style that electronic music is far colder and less lively than its organic and analog counterparts. It isn't true with "Thinking". There's a deep groove that Edenn grabs onto from the first and his emotive phrasing never risks anything resembling self indulgence. Instead, pop songs rarely come as fully rounded and complete as this. It sets an inviting mood from the first for listeners and the frequent serenity of the visual imagery neatly dovetails into the song's mood.
I-TUNES: https://itunes.apple.com/be/album/thinking/1385050609?i=1385050617&l=nl
The lyrical content is accessible and straight-forward through with no pseudo-poetic excursions, but it's also demonstrably well written and communicates Edenn's emotional weather with a pinpoint touch and it's synced up quite nicely with the video material. The chorus of the song and following refrains often come with particularly impressive sky shots and it strengths the immensity of the longing Eden seeks to convey for listeners. "Thinking" is definitely a song of desire, but it's handled with expansive vocal talents that never push too hard on the music or lyric, but instead locks in with the groove and works as it should – the lead instrument in the song's arsenal. It's a satisfying and entertaining performance.
Edenn's lyric video for "Thinking" conclusively proves that there's plenty of life and value left in the style in the hands of a talented young artist. This release, both as a single and video, has a tremendous amount to offer fans of the style, but it likely exerts just as much appeal for casual listeners willing to give it a chance. Edenn, a native of Togo and self-styled "citizen of the world", has already crossed multiple continents pursuing his musical dreams and the excellence of this song and video provides convincing evidence that he's ready to go global.
Jason Hillenburg