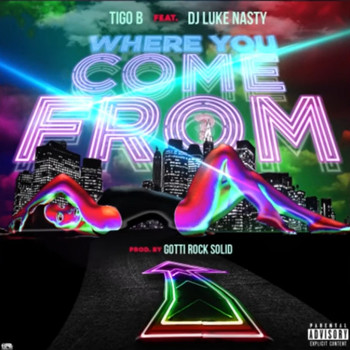 If you're not already a member of Tigo B's tribe, you will be after watching the video for his latest hit "Where You Come From." Tigo B is an American rapper from Greensboro, North Carolina, taking a unique approach to hip hop. He shapes his sound by drawing from his Sierra Leonean heritage and pop culture, a blend that sets Tigo apart from the rest.
"Where You Come From" is a hip hop style track that anyone can vibe to, reaching the #1 spot on Shazam in the Mid-Atlantic and throughout the Carolinas. The track's upbeat production by GottiRockSolid features the catchiness of pop music with piano and synth melodies, over a trap influenced beat that's staple to modern hip hop sound. The song also features DJ Luke Nasty, a seasoned rap artist who is coming off of two Top 5 Urban records and two Top 10 Rhythm records.
Directed by Denzel Whitaker, aka Young Zuri from the box office knockout Black Panther, the "Where You Come From" music video matches the song's professional quality with expertly executed visual effects and camera work. At the start of the track, Tigo walks into a club glowing with blue and pink neon lights. Shots of Tigo and girls in the club vibing to the music flicker along to the hi-hats of the beat. Then, Tigo ventures off alone into a room by himself where he uses a futuristic tablet to bring the woman of his choice to life right in front of him. He takes her back to the club and sings her the song's hook, "Baby where'd you come from, they ain't like you where I come from" as they dance with each other in the scene's pink and purple haze.