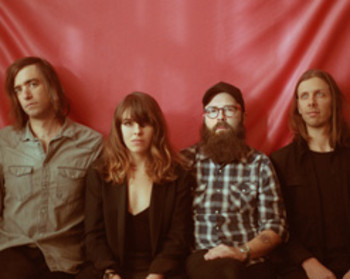 Some new albums are anticipated because the audience knows exactly what they're getting. A band makes a record that fans like, and those fans expect to receive a slightly updated version of what they've already heard. Other albums are anticipated because of factors unrelated to the music: celebrity, notoriety, music business hyperbole.
Hop Along is a different story altogether. Ever since the 2015 release of the mesmerizing Painted Shut, listeners have been wondering what the Philadelphia quartet would do next, and how frontwoman Frances Quinlan would follow up her audacious, idiosyncratic storytelling. Painted Shut landed on year-end best-of lists from Vice, Stereogum, Consequence of Sound, and other publications, and the reputation of the set has only grown. Everything about Hop Along – the classic songwriting, the subtle intricacy of the rhythm section, the alternately humorous and horrifying lyrics, the whispering darkness of the production, and Quinlan's inimitable yowl – invites intrigue. This is a band that engenders protective feelings in its fans; the music draws you closer, it invites intimacy, it sounds exciting from afar and rewards close engagement.
https://www.hopalongtheband.com/
All of this is to say that Bark Your Head Off, Dog (Saddle Creek), the third Hop Along set and follow-up to Painted Shut, arrived this April amidst general excitement among adventurous music listeners. Acclaim – and awe – has been universal. Pitchfork, Drowned In Sound, the Boston Globe and the Philadelphia Inquirer: critics have raved, features have been written, and fans have, once again, fallen head first into Quinlan's mysterious world. "How Simple", the lead track on the set and its first single, is an example of everything that makes Hop Along irresistible. The song is simultaneously withering and humorous, its emotional intensity is immediately manifest, and its unconventional melody builds to a rousing singalong refrain. Most of all, it's unmistakably theirs: there's no other band in America that sounds remotely like this.