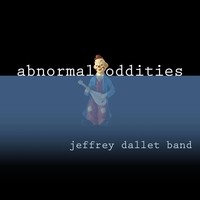 Jeffrey Dallet goes for a rustic sort of timeless folk with the passionate "Abnormal Oddities EP". Tenderness flows through these songs recalling Bonnie 'Prince' Billy's earnest vocal delivery. Done with the utmost of care these tracks are imbued with such life and vigor. Stylistically Jeffrey Dallet incorporates a wide variety of approaches into the mix, from neon-hued pop with a wild edge to cinematic contemplation as the volume gets turned down. By far what ties all of this together is a great attention to lyricism, for Jeffrey Dallet manages to create an entire worldview from these heartfelt melodies.
Things open up with the glorious ramshackle blues of "Blind Love In Vain". By far the highlight of the collection, the way the many layers interact feels all-consuming, from the glowing organ work to Jeffrey Dallet's commanding voice. Exploring the other side of the coin is the fragile work of "Someday". A middle ground between the two appears on the thoughtful languid grooves of "Dead And Lonely". Great strings emerge on the magical "Gypsy Jewel". Playfulness reigns supreme on the spellbinding "My Old Record Store". Nearly physical with its approach the graceful "Dear Dayton, OH" opts for a soulful sort of ballad. On "Odd Ball Blues" the collection ends on a high note, with the driving tempos working wonders along the pure blasts of sound.
https://www.facebook.com/JeffreyDalletMusic/
With "Abnormal Oddities EP" Jeffrey Dallet sculpts a graceful realm, one that feels truly colorful and vibrant.
By Ben Sheman