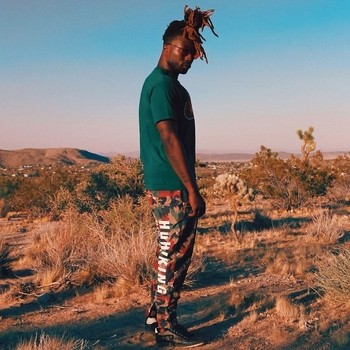 Marley Waters most recent release titled "Wine Pon It", has made it's rounds, since release. Marley Waters goes into talking about this single, back story about his personal life, career choice in music, down to what is ahead for his future, involving everything happening within his world known as Marley's World.
NP:  Before entering the world of music, what life events framed the path of your professional journey?
Marley Waters:   I was born an entertainer.  Performing at such a young age.  Growing up in the church.  Feeling a higher power through the aid of spiritual energy and music.  Watching my dad's love for music & his journey as a musician.   Losing my best friend, DJ Henry, was tough.  After that, I was committed to use my voice for a higher purpose.
NP: What elements do you hold that'll define you as an entertainer as oppose to just another artist?
Marley Waters: My authenticity, delivery & approach to performing.  Paying attention to the details, paying homage, and being diverse within the world of music.
NP: What's the biggest risk you've taken artistically; one that went over surprisingly well and one that might've gone over people's heads?
Marley Waters: Dropping out of college with only one year left until I would have graduated.  I left everything and everyone.  Moved to LA with $200 bucks in my pocket. Produced the platinum single, "2ON" for artist Tinashe  a year later.
NP: What do you consider to be the greatest obstacle that you had overcome in achieving your current status?
Marley Waters:  Overcoming fear.  After losing my best friend to police homicide and my ex girl friend to a suicide, I was hesitant about how far I would even make it.  But then I realized my purpose is bigger.  I'm here for a reason and I can't stop until change is made!
NP: What is the meaning behind the song "Wine Pon It", what is it all about, would you say?
Marley Waters: What "Wine Pon it" means to Marley Waters? "Wine Pon it is when bad mon & bad gyal body link up a stroke to the melody. Sexual frequencies translated through the riddim. To perform you must gyrate and twist your Hips, Core and Chest in a slithering motion. The wine is a Caribbean culture dance I resonated with growing up in Boston. The "Bashment" is where we went to "Wine All Night."
NP: When you look to the future, what are some of the areas you'd like to change professionally and personally?
Marley Waters: As I mentioned, I am a student to this game.  I'm also young.  As long as I stay a student as well as do good fair business, I will continue to evolve and grow in all areas.
NP: What insight can you give on the power of music and its ability to communicate certain messages verbally and non-verbally? And what do you think your music represent?
Marley Waters: Music is so powerful. You can say its brainwashing. It helps people celebrate, Morn, bond with each other. Even share life's messages and inspiration to the listeners.  Music is the universal language. It has no borders or prejudice. That's what my music represents to me.
NP: Finally, how would you describe Marley Waters to someone who has never listened to him before?
Marley Waters: Who I am is the messages within my music.  If you're following my music you're following my life and my journey. My fans know me well because I pour my daily life experiences, good and bad, into the lyrics and music I write.
https://www.facebook.com/DjMarleyWaters/
By: Natalie Perez