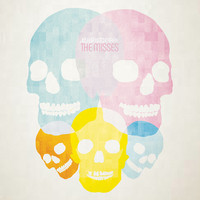 Joshua Ketchmark has made a career out of splitting time between Nashville and Los Angeles, two music maker hotspots, but his enthusiastically energetic album The Misses (mostly) sounds more L.A. than Music City. About the only place where cowboy boots win over fancy nightclub shoes comes at the album's end with "Those Were the Days," which is a ballad sweetly colored with understated steel guitar. But for the most part, though, The Misses is a rocking, riffing effort.
"Dancehall Blues" sounds to be lyric taken from Ketchmark's touring experiences. Build upon a soulfully empathetic organ part, it's the sound of Ketchmark singing out a little musical encouragement. "You've got nothing left lose/But these dancehall blues," Ketchmark sings supportively. However, the hyperactive groove driving "1988" is most representative of the songs on this full-length. It features propulsive electric guitar, as do most songs.
The track "Rock & Roll" begins with a lone guitar riff, before Ketchmark's voice chimes in. Although its title alludes to the artist's favorite musical genre, its chorus is all about love and romance. "I gotta know why you don't want me/I gotta know why you don't need me anymore," Ketchmark wonders out loud. Much like the way peanut butter and chocolate go together especially well in those Reese's Peanut Butter Cups, rocking songs and broken hearts have always added up to a nearly unbeatable artistic combination.
At his best, Ketchmark can sound a little like Peter Case, back when he fronted the inspirational, if underrated Plimsouls. This sonic characteristic especially comes through during "Can't Be Your Friend," which has a memorably menacing melody. The song suggests that, in some cases, women and men cannot remain just friends – especially when there's so much more affection attached to the relationship.
Ketchmark's instrument of choice is electric guitar, it's true. However, he's equally comfortable strumming an acoustic. "Her Voice in My Head," for instance, is a folk-ish number where organ fills show up again, only this time, the sound is gentler, more acoustic. Nevertheless, this song (as well as "Those Were the Days") is an exception to Ketchmark's general rule of keeping the volume up and the energy high.
Listening to Ketchmark's unapologetically rock & roll album will come as a breath of fresh air, particularly to those that spend any amount of time listening to Top 40 radio. With guitar manufacturers and music stores like Guitar Center struggling financially, some are coming to conclusion good old rock music may be on the verge of extinction. Say it ain't so, though! Few art forms express man's deepest emotions better than a barre chord played all the way to 11 through a Marshall amp.
A title like The Misses might be a sly reference to a one's wife. Then again, it may refer to the opposite of a hit song. Whatever its implication, Ketchmark's album is a consistently enjoyable, (mostly) unrelentingly loud, rocking record. It's the sort of collection that sounds best played and full volume while soaring down a highway. Only in a few places is it quiet and contemplative. If this rock recording is evidence of rock & roll is becoming an endangered species, then this is also one wonderfully wild animal well worth preserving.
http://www.joshuaketchmark.com/
-Dan MacIntosh