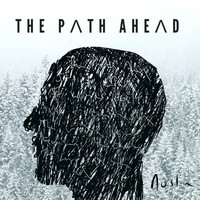 Austin Colon embarks on a mystical path of self-discovery with the illuminating "The Path Ahead". Drawing from psychedelic rock, folk, electronica, with a little experimental pop edge, the album employs a wide variety of twists and turns. Over the course of the album's journey, Austin Colon's highly articulate thoughtful lyrics come to give these songs a true theme, one of growth and hope. The optimism of the work feels particularly powerful, while Austin Colon allows the songs to buildup in such majestic ways. Quite majestic at times with its hints of cinematic flourishes, the songs feel sweeping.
Setting the tone of the album "Alone (Again?)" starts the exploration with the greatest of care, as Austin Colon's light studio effects have a great impact. The guitar sings and soars on the spacious "Perfect Moments". A loveliness comes into the fray on the autumnal "10 (a Poem)". Easily the highlight comes from "Little Pieces" where Austin Colon focuses in closer and closer on what truly makes up a life lived to the absolute fullest. Things are kept to the essentials on the stripped-down intimacy of "Silence is Dangerous" where the piano serves as the only accompaniment. Going for a mantra-like delivery is the hypnotic "I See Right Through Myself" where the looping adds to the emotional weight of the work. Neatly ending the album off on a thoughtful note is the title track, the elegant "The Path Ahead".
"The Path Ahead" presents a brilliant, blissful world, one that shows off Austin Colon's undeniable storytelling chops.
By Beach Sloth