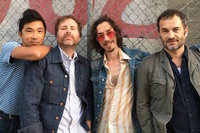 If you're a fan of classic alternative rock ala Beach Slang, Superchunk and R.E.M. but aren't interested in hearing modern knock-offs or half-baked attempts at recreating the style, then checking out the new music from the recently reunited Big Mother Gig should be on the top of your agenda. Critics and audiences alike have been rejoicing since last year's reemergence of the formerly Wisconsin-based hard rockers. Their return to the airwaves long overdue, the past year has seen a lot of momentum build for Big Mother Gig for the first time since the Clinton Administration. Their extended play, Almost Primed, dropped in 2017 to massive praise from the indie music press, and they followed up the release with extensive touring alongside the likes of Luna, Gestures & Sounds, Alvarez Kings and Soccer Mommy just to name a few. So far this year, they have released two singles, "The Great Heist," and "(Let's Make) Compelling Content," the latter of which came out just this month. Both songs feature much of what we have come to expect from Big Mother Gig but also offer much more diversity than their 90s predecessors.
While a lot of people like to see bands reunite and tour solely on the classic material that gave them their start and familiarized the world with their identity and style, it is so much more exciting when a band reforms and channel the same creativity that drove them in the beginning. After all, isn't that creativity and originality what made us fall in love with the music to begin with? Big Mother Gig may have aged 20 years, but the original emotion and shared joy for the beat hasn't faded one bit. Not to mention, if you've had the opportunity to see the guys live since they've reunited, than you've already learned that their dynamic stage energy hasn't faded either.
Part of what makes their newest single "(Let's Make) Compelling Content" much more exciting than anything that other classic alternative bands have released lately is its excellent engineering and production. If you're not careful with the volume, the ground-quaking riffs that explode in the first few bars of "Compelling Content" will tear the paint off your walls. The crystal clear audio allows us to really appreciate how much sonic depth the band really has, especially on the back end, which is fat and fuzzy, reminiscent of undisputed alt-rock classics like New Day Rising and Superfuzz Big Muff. The riffs are catching and the licks are memorable, but what sticks out here more than anything is probably the galloping of the drums and crash of the cymbals between verses. This is not only good drumming, this is superior drumming to anything that American Top 40 has to offer.
It should be no surprise that "(Let's Make) Compelling Content" debuted at #6 on the KKBB Singles Chart and #7 on the FMQB Submodern Chart after premiering on SiriusXM Radio's Rodney on The Rock. If you want to learn more about Big Mother Gig and their upcoming plans, visit their official website (bigmothergig.com), Twitter (twitter.com/bigmothergig) and Facebook page (facebook.com/bigmothergig). 
Thomas Patton, III