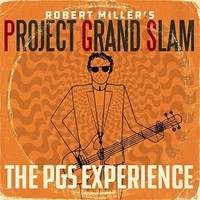 "Metro Shuffle" – featuring Mindi Abair, by Project Grand Slam, is the latest single from the 2017 EP -The PGS Experience. This track by the jazz-rock fusion outfit led by NY bassist Robert Miller is surrounded by– five new studio cuts, three new tunes written by Robert and two new PGS-style covers arranged by Robert, of songs by Cream and Phish, plus four dynamic and powerful live concert tracks of some of the band's best–known songs. It features saxophonist Mindi Abair who also appears on the track "Fishin'" and PGS have shared the stage with such artists as Boney James (3x), YES, Blues Traveler and Scott Weiland.
This is one of two fantastic singles from the EP to showcase 2x Grammy nominee, Mindi Abair's amazing saxophone playing. And not being familiar with Project Grand Slam, it comes out of left field and instantly draws me into what is a world class effort from a release full of top notch players and songs. The funk infused combo lights up the jazz factors on this with everything it takes to deliver a monster groove without stepping over the instrumental timelines, clocking in with a 3:13 powerhouse of absolute perfection that isn't sliced every day. The quality of music and product from front to back is as good as it comes.
Big chops are what this band come with, and it must be heard to be believed where Robert Miller's choice of original and cover music presented. "Metro Shuffle" is exactly that, a shuffle piece for the masses to mingle about over, which sounds exceedingly vibrant for talking points or any other purpose. The urban vibe it carries, sees to that at any rate as it helps define the title of this remarkable instrumental piece that holds its own, both as a single and EP/album track. It plays well in any setting, from a night indoors to any outdoor situation, especially for jazz lovers who listen regardless of where.

Not enough can be said about how good this track is, not to mention, Project Grand Slam itself being one of the best bands of its type or any for that matter, likely to be heard in a long time. This can be exemplified by all their releases as well as this single, recommending their whole catalog as well. This is a track which comes complete with guitar and sax sparring of the most advanced order condensed into a more-or less smooth jazz, radio-friendly single that pops like that of no others around in today's landscape. And that is a tall order for any jazz-rock fusion or even pure jazz artist or band working today.

The artistic studio performance of the band and guest star, Mindi Abair, turn in one of the best tracks on the EP which is a set of many things including some live covers of tracks like "You Really Got Me" by the Kinks, and "I'm So Glad" by Skip James, a well-known track that was made famous by Cream in the 60s. "Metro Shuffle" blends well among the other songs which make up a delightful mixed bag of over the top selections to go with it and the other originals, it turns out to be one of the industry's best kept secrets to anyone not familiar with Robert Miller's killer PGS output.
AMAZON: https://www.amazon.com/Metro-Shuffle/dp/B071L4CT8Q

Larry Toering