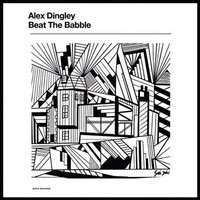 Alex Dingley presents offers us something truly unique in the new single "Not Alone in the Dark," which leaves a haunting impression that fans of independent music will go crazy over. To be honest, I wasn't familiar Dingley or his work prior to hearing "Not Alone in the Dark," but after just a single listen I found myself furiously searching the internet for more of his artistry. I stumbled upon a performance he did for Marc Riley on the BBC, of his song "After the Laughter." I found myself so enamored by this man's voice, which recalls Morrissey in some parts as much as it does the nastiness of Jello Biafra, and the overwhelming, dark atmosphere that the drums clashing into the guitar seemed to create. I was stunned and pleased by the mischief and the macabre sarcasm that was spilling out of my headphones. I consider myself pretty keen on independent music in the states and the United Kingdom, but how on earth could this have escaped me?
http://www.dingleydingley.com/
I was so excited to learn that "Not Alone in the Dark," is just one single off of Dingley's brand new full length, Beat the Babble, out now from Birth Records. On Babble, Dingley seems to strut between vicious arrangements with a swagger that leaves a lingering sense of danger for the listener. There are shades of everything from Joy Division's bleak post-punk, to the atonal white noise of Sonic Youth, and even some garage rock inspired percussion that could easily have found their home on a Stooges record. None of this should imply that there isn't quite a bit of melody in these tracks, and "Not Alone in the Dark" is definitely one of the most harmonious high points of the album. Both the single and its grand album are like a noir film; when it's bright, it's blinding, and when it's dark, it's as black as the night sky. You'll easily be able to find which side of the light you want to stand in, mostly because Dingley and his band's unforgiving sonic wall demand an equally strong reaction.
American indie rockers and singer/songwriters alike would be quite wise to take note of this brilliant artist and his work. Everything here clicks at a swift tempo, and the tightness of the instruments and their players are remarkably solid. Great music like this does not come around every day, and it would be absurd not to appreciate it while it's in live motion. I understand they recorded Beat the Babble in California, and as a west coast resident I really, really hope to see an American tour soon. I can only imagine from the intensity of this studio effort the way these guys could cut loose in person. For more information on Alex Dingley, check out his website dingleydingley.com and look for Beat the Babble everywhere that digital music and vinyl are sold. The music video for "Not Alone in the Dark" is also available now and streaming on YouTube.
TWITTER: https://twitter.com/adingley
Thomas Patton, III