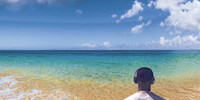 "Everyday is Your Day (The Wedding Song)" is the brand new single from the calculated R&B mind of Tone Malone, whose name instantly is recognizable for fans of the northern California sound he champions. Although fairly new to the business, Malone is raising eyebrows and garnering immense praise for this cut from his latest studio session. Encouraged by the hype surrounding him, this track sets the tone for Malone's upcoming releases by introducing us to his unique brand of pop that marries rich melodies and self-examining poetry to create the kind of crooning that only a true master of soul can produce.
While some could argue that Malone's open willingness to wear his influences on his sleeve could be a hazard in a genre that is quite often accused of being too repetitive, quite the opposite is true in this latest majestic offering. Love is probably the most written about subject on earth. Love is what binds us together, and often quite tragically rips us apart. But it's the ever-present chase that keeps us alive, keeps us moving, striving for something more in someone else. Malone serenades us as we embark on that chase, reminiscing about the innocence of a new love, the sheer joy that comes in watching it expand and grow with care, and the pure ecstasy of finally capturing what we want most in life: to be made whole and joined by a partner who completely understands us. True, Tone Malone knows a thing or two when it comes to matters of the heart. But for all I care, this guy could sing lyrics right off of a grocery store receipt and it would sound more melodic than anything on the Billboard charts or modern FM radio. You can't teach talent like this, it just comes natural to those who are blessed to receive it.
If you're on the west coast, expect to be seeing Tone Malone coming to a venue near you in the future. Young crooners relying heavily on expensive software, talent hacking and digitalized beats are on notice: clean, driven music is back with a vengeance, and Mr. Malone has quite literally set the tone for an upcoming generation of piano-based poetry. While highlighting how awesome it feels to cherish the people and passions we love, Malone poses an even more fascinating question; why does it take so much for us to give ourselves over to one another? Our self-created inhibitions that restrict our lifestyles and keep us from pursuing the things we really want out of the universe typically expose themselves as silly and pointless when we find the right person to hash them out with. So why do we create such burdens to begin with? Is it that we're all suffering from the curse of second-guessing ourselves, or is it that we need all that questioning, self-doubting and hesitance to make us appreciate the real article when we see it? If this track can leave us with a deeper understanding of its artist, the lesson is in the humble nature of Tone Malone's examination of love and marriage. Appreciate and love those who love you back, because they are the brightest light in your life.
Tone Malone's music is online and soon to be everywhere music is sold. Be sure to check him out on Facebook to learn more.