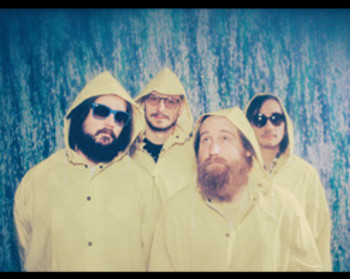 Philadelphia native ethereal indie pop band, The Soft Spots, is ready to spread dreamy synth-rock vibes and psychedelic aesthetics in their new "Goodbye Again" music video. Since the group's early beginnings in 2012, consisting of lead singer-songwriter Shane Gallagher and the band's drummer Dr. Deadbeat, The Soft Spots has been meticulously crafting the perfect blend of new-wave and art rock elements to develop its signature sound.
The band has gained several new members over the course of its lifespan, including Truong Ta on backing vocals and guitar, and Corey Pace on bass, keyboard, and vocal harmonies. Recently, The Soft Spots produced its single "Going Soft" after the addition of newest member, Johnny Price, who now contributes to harmony, guitar, and synth lines. The Spots' latest single, "Goodbye Again" features a mix of each member's area of expertise, establishing the group's danceable indie pop style.
The "Goodbye Again" music video instantly takes viewers on a nostalgic trip by blending chaotic visuals with the song's other-wordly nature. A rainbow of distortion is cast over the band as Shane sings about memories of past love. Color saturated grainy visual effects compliment the shimmering guitars and wavering synths featured on this compelling track. Hazy double exposed shots of the band while Shane sings "I don't wanna fall in love again. I don't wanna give it another try" perfectly capture the conflicting feelings one experiences when reminiscing on a past relationship, and contribute to the band's psychedelic aesthetic.