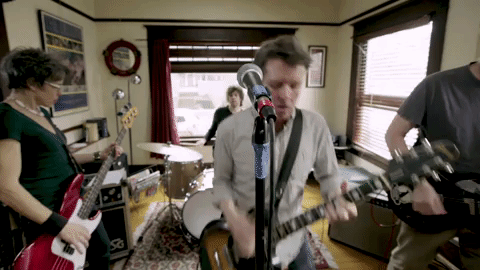 On the cusp of southeast shows and a European tour, Billboard is sharing a music video for Superchunk's "Erasure," the What a Time to Be Alive cut that features backing vocals from Waxahatchee's Katie Crutchfield and The Magnetic Fields' Stephin Merritt.
Superchunk's Mac McCaughan on the video:
The song "Erasure" is about the desire and attempt, on the part of the old white men currently running this country, to erase the experience, history, and existence of entire groups of people who don't look or think like them. They want a straight white America which does not and has never existed, but they hope to make it so. When director Whitey McConnaughy heard the song and started thinking about video ideas, he heard another angle, which is also a theme of our album: Given today's anxiety-inducing, creeping authoritarianism, how do we get through each day when we feel like we're losing our minds?
McConnaughy succinctly added the following:
In today's modern world of 24/7 news cycles, updates, tweets, and posts, we could all use a little Erasure.