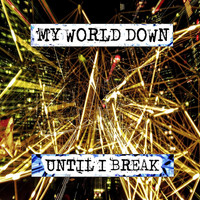 Intensity reigns supreme on the burning, yearning desire of My World Down's "Until I Break". Volume deserves to be blasted for the entire piece burns through its track duration with incredible majesty. Everything works wonders: from the propulsive rhythms to the manic energy of the guitars. Tying all of this together are the poetic lyrics which are delivered with such clear-eyed determination. Over all the wildness, what truly helps to serve as the very focal point of it all are the powerful vocals which rise above the rest of the song, soaring into the sky with an uncanny sense of grace.
Sweeping synthesizers introduce the track on a cinematic note. From there the piece literally bursts with a wide variety of color. Percussion hits with a nearly physicality to it, while the entirety of the track barrels forward. The lyrics explore the importance of a relationship, the lust and joy that comes with it along with some of the heartache. Exploration of this duality means that the song acknowledges all the hope that comes with truly caring about someone also comes with worry about that person, about whether that person feels quite the same way. Grooves feel carefully constructed as they constantly grow with strength, becoming ever more potent with each cycle. Opting for this sort of approach means the whole thing feels so vivid and so real.
With an unhinged spirit, My World Down's "Until I Break" goes for a beautiful blissful grandeur on the emotional "Until I Break".