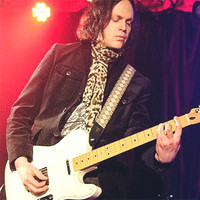 Oberon Rose is an indie-rock band that hails from the New England area. I've been there many times and that area of the country can at times be a very bright and beautiful place however it has its fair share of unpredictable cold, snowy and rainy days. That said this might just be the perfect locale to explore the unpredictable realm of musical expression.
Band consists of: Tommy Oberon: Lead Vocals, Guitar, Chris Listorti: Bass, Keyboards and Backing Vocals, Mike Keyes: Drums
"Tell me all About It" delivers all the a-typical conventions of today's modern alt-rock-music with a British invasion flair that so many love here in the US. The band which features the writing duo of Tommy Oberon and Rebeca Rose (hence the name combo) both have done a superlative job at crafting a solid sonic space for the listener to bask in. The first title track lifts off the ground and radically shifts directions midstream. It's in itself an impressive kickoff statement. It's remarkably easy to listen. Track 2 "No Stranger" Keeps the rock flowing with psychedelic vocal delivery, driving rock rhythm and impressing solo guitar. All songs present a stunning collection of music that effectively run the gamut and has much to offer insofar as impressive music and captivating lyrics. Musical comparables for me include The White Stripes, Franz Ferdinand, The Fray, Bright Eyes, Thriving Ivory, and Broken Social Scene. One cannot help but admire artists with strong songwriting skills and truthful conviction all the while demonstrating a strong a level of creativity. One senses a growing ambition as this LP advances. This band demonstrates an appealing guitar front and vocals that really hit home with sporadic harmonies and tantalizing synth/keyboard accents to boot. From melodic "Lonely Ghost" to impassioned "Life in a Box" to trippy "Battle Hymn of the Magi" to rock steady "A Place in the Sun" this release has something for just about everyone.  The musicianship is rock steady and the overall production value tows the line.
If you want a rocking melodic rocking staple there's something on this record for you. Obviously many will fall head over heels with Oberon Rose. Let me go on record by saying this is one band that's set up rather well for mainstream success along the East coast and beyond this year. Some of this plays into strong marketability world-wide. Some pieces present more modern sounding overtones, but despite all this they possess an infectious Indie UK rock texture with some American punk thrown in. This is really what makes Oberon Rose so enticing to me personally – lots of depth. In the end Oberon Rose possesses an impressive and youthful look and sound. "Tell Me all About it" grants one rare access to peer into the soul of a quintessential artist not so tormented but rather easy going and positive shall we say.
FACEBOOK: https://www.facebook.com/oberonrosemusic/
Michael Keith