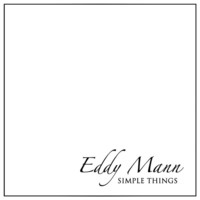 "Simple Things" comes straight from the heart, proving Eddy Mann to be a highly gifted storyteller. Eddy Mann crafts entire worlds out of each of these pieces, exploring characters with tremendous ease. Over the course of the album, Eddy Mann incorporates elements of folk, country, rock, all neatly framed within the singer-songwriter tradition. With a playfulness the entire album comes together into a perfectly realized whole. Guitar work feels sculpted with a tremendous ease. Whole histories appear over the course of the grand journey. Rhythms possess an infectious quality to them, driving forward with incredible determination.
Things open up with the giddy energy of "When the Cowboy Sings". A slower more introspective energy defines "The Red Shawl". On "Cowboys in the Badlands" Eddy Mann lets things sprawl out into the infinite, with glistening keyboards lending the song a thoughtful aura. Hushed tones radiate from the expansive realm of "An Actress". Jerky rhythms work wonders on the catchy "Between Rounds". Displaying a wry sense of humor is the joyous "Girl in A Big Hat". Rather serene "The Courtship" sculpts a pastoral image, thanks to the help of refined strings gracing the entirety of the track. Percussion has a loose quality on the lovely "The Portrait of Mary". Energy flows through the soulful "Whistling For Plover". A wild, joyous sound brings the entire album to a close with "The Dancing Lesson".
Eddy Mann sings with passion and soul on the thoughtful, highly tasteful "Simple Things".
By Ben Mason