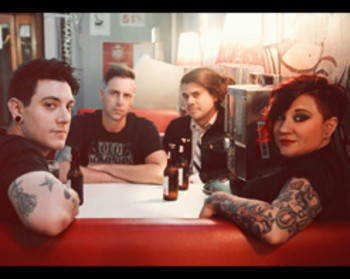 Famed for live music staples like South By South West and Austin City Limits, Austin, Texas is the kind of city where one can find over a hundred venues showcasing a wide variety of live shows on any given night. Such a nurturing nest for budding artists has created a music scene like no other. Resident rockers, Those Damn Eyes, are making their city proud in their daring new single,
"Give and Take".
Those Damn Eyes busted into the scene with their 2016 debut, the Glass Crash EP. Addicting hooks and heavy tones made for an inspiring first impression. Their follow up, "Give and Take" marks a staple in the band's legacy as new frontwoman, Meredith Williams' powerhouse debut with the group. Take one listen to William's vengeful lyrics on this track and you will know to never mess with her. The crunching guitar tones emit such emotional melodies while the rhythm section provides the dramatic punch that completes the quintessential sweet sound of Those Damn Eyes.
http://facebook.com/Those-Damn-Eyes-844263212299197/
The "Give and Take" music video kicks off with a theme-setting voicemail from Williams to a former lover: "Hey, I've been trying to get a hold of you for days. You're with that girl, aren't you? That's cool, we're gonna see who has the last laugh." Her henchmen spring into action, rolling up to her ex's house uniformly clad in black and ironically smiling masks. They bag his head, throw him in the back of their car and bring him to Those Damn Eyes HQ, where they have their way with him. His state of crippling fear is so amusing to Williams that she celebrates by taking selfies with her emasculated beau. "Give and Take" shows a new sonic maturity from the band while teaching us to never double cross the likes of Meredith Williams and the TDE crew.