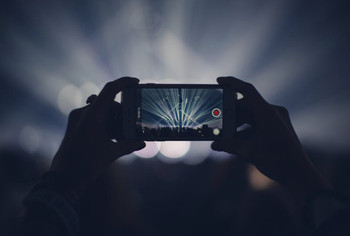 Concerts are a blast, whether it's a big event at a popular arena or you're seeing an unknown band at a hole-in-the-wall venue. There are plenty of potential dangers when you go to a concert, though. While you don't need to be paranoid, you should keep the following five safety tips in mind.
Be Aware of Your Surroundings
This is always a good idea, but it's especially true at a concert where it's usually dark and loud. Keep an eye out for anything strange, especially whenever you're in an area where there aren't many people around (like on your way to the bathroom).
Stay with Your Group
Although you can certainly have fun at concerts alone, it's safer to go with a group of people. If you do, make sure that you stay around them whenever possible. This allows all of you to look out for each other. Anyone who is looking for trouble is also far less likely to mess with a group of people than with one person on their own.
Watch What You Eat and Drink
All it takes is one bite of food laced with something dangerous or one crushed up pill in your drink to leave you in a vulnerable state. Never eat or drink anything from a stranger, and when you have a drink, keep it with you at all times.
Don't Drink and Drive
There's nothing wrong with having a good time, but if you're going to be drinking, you and your friends should either have a designated driver or get transportation to and from the concert. A DUI can cost you $10,000, and you put other people's lives in danger when you drink and drive. Cops also will often stake out large events where lots of people drink. If you do happen to make this mistake, be sure to work with a dui lawyer to try and reduce the effect it will have on your life. Most importantly, don't do it again.
Keep Track of Your Belongings
Thefts are common at concerts. This can range from someone grabbing your phone when you leave it on a counter to a pickpocket getting your wallet without you even noticing. Keep all your belongings in secure pockets that would be hard for anyone to reach inside without you noticing, and give these pockets a quick pat every now and then to check that you've still got everything.
You can have plenty of fun while staying safe at a concert. Just remember the tips above and you'll avoid any potential threats.