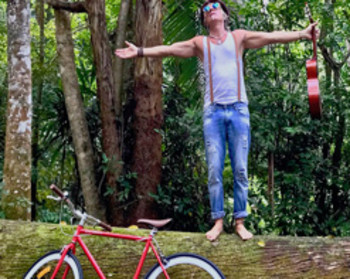 Every once in a blue moon, an artist come along that projects their heart on a screen, for us to watch their story like a film with their music as the soundtrack. Bob Dylan. Donovan. John Lennon. These are artists that have influenced others in such a deep way, they've been known to change lives. Hailing from the Gold Coast of the land "down under", AKoVA has brought us his inspirational story in the form of his new single, "You Can Have Anything".
Dubbed by Australian music media the "Rhythm King'., AKoVA believes that wherever your heart is, is where you'll find your treasure. This multi-instrumental talent does just this by following the route within him. He enthralls audiences by combining vocals, guitars, ukulele, cajon, djembe, ankle bells and an assortment of other percussive instruments, often all at once.
Detailing the painful process of letting go in his heart-wrenching ballad, "Headlights", he was able to steal the hearts of fans who so closely related. "You Can Have Anything" is the toll of the bell to inspire, enlighten, and ignite true passions. AKoVA uses his husky vocals to get the point across, that if you let your inner self free, "You Can Have Anything." "I wanna play like children play. Not sometimes, but every day, live with my heart, let my spirit reign. Because if you live like that, you can have anything." AKoVA is unabashed ebullience incarnate! The passion is palpable, the sheer joy of this video oozes out of every frame.