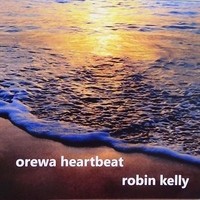 New Zealand native Robin Kelly's fifth album release, Orewa Heartbeat, is another offering from a singer/songwriter and musician unafraid to explore weighty, important themes and talented enough to make them come alive in an entertaining and powerful musical landscape. Recorded at Manuka Studios, the indie nature of his recording shouldn't ever prove misleading – the production values of this thirteen song collection are substantial and do a superb job highlights the across the board strengths of Kelly's talent. Despite decidedly adult subject matter, Kelly never writes about these things with a heavy hand or over-reliance on cliché and the personal aspects of his work never undercut its accessibility. Naturally, fans of singer/songwriters will find much to admire on Orewa Heartbeat, but even casual music fans will be hard pressed to find fault with the feeling, virtuosity, and intimacy conjured by Kelly on his newest release.
The album's first song "Waiting for Me Too" is a lovely, luxurious opening to Orewa Heartbeat replete with melody and light orchestration that sets it apart from your standard singer/songwriter fare. Kelly's voice inhabits the song with a great deal of warmth and canny, deeply felt vocal phrasing that makes the lyrical content really come alive. The stately pace of "Truthseeker (Song for Pete)" makes a big impression thanks to a variety of factors. Kelly's voice, once again, exhibits full commitment to both the lyrical and musical content that elevates it to an inspiring listening experience. There's definitely a dream-like quality to the way the song unwinds and an elegiac quality as well, clearly manifested in the melancholy violin that appears in the song. "Country Mile (No One Comes Close)" is a delightfully stripped down track relying on minimal percussion, acoustic guitar, and Kelly's voice. It's, essentially, a love song that has a great effect thanks to its use of common turns of phrase that many listeners will find endearing.
"I Apologize" begins as a plaintive piano ballad with Kelly's voice centered in the mix for maximum dramatic effect. He carefully constructs the song to crescendo with just the right amount of emphasis and there's some lovely horns incorporated into the song as well. Despite the obvious differences between their vocal styles, "I Apologize" is somewhat reminiscent of Van Morrison's best R&B and soul balladry. "So Easy Now" definitely embodies its title with the loose-limbed amble the song affects and the light shuffle lain down by the percussion. There's some understated musical additions along the way that may surprise listeners and add tasty flavor to the performance. The classic country vibe continues with the song "The Tennessee Moon Beams Down (And Smiles)" and the entertaining bounce in its step never loses its energy or appeal. One might expect that it's a stretch for a New Zealand native to credibly invoke this style, but Kelly's familiarity and obvious comfort with the classic country form is apparent from the first. Orewa Heartbeat concludes with the nakedly vulnerable "Someone Else's Dream" and this is a purely piano driven piece with a particularly effective Kelly vocal and lyric – in fact, it's no stretch to say his writing here ranks among the best on the album. What a profound, moving work. Robin Kelly's Orewa Heartbeat is a gem of an album and deserves a hearing from anyone who values authentic, deeply felt music.
HEAR NOW: https://orewaheartbeatrobinkelly.hearnow.com/
Jason Hillenburg