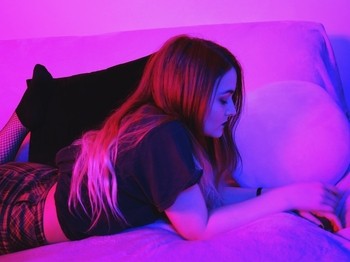 One of the most promising voices in electro-pop, Galway-based newcomer Cat Turner brings us her haunting new track 'Waster'. Since debuting last year, the electro-synth artist has steadily gained fans with her seductive beats and distinctive, raw vocals. She is crafting her own niche of 'Goth pop', which has signaled the young producer-singer as one to watch; and looks set to continues her rise with this brooding new gem. There is an uneasy balance on 'Waster' that feels at any moment about to be disturbed; the shadowy synths and deep bass making for an unnerving mood of menace.
Having started producing a year ago, Cat has honed the nurtured sound that we hear now and shows immense technical maturity. She takes her cues from acts like Grimes and Tove Lo, and incorporates elements of electro and alt-pop that evoke her own keen sense of her own identity. Cat builds a visual style around her sound, choosing to make bold and artistic statements while defying convention. "The reason I started producing and doing everything myself first came from a place of necessity… now it comes from a place of total passion. It scared me to do it myself, which was the exact reason I had to."
https://catturnerofficial.com/
'Waster' serves as a taste to the forthcoming debut EP, and marks an ever-growing confidence and emotional rawness for the young artist. There is a real sense of honesty with her lyricism. Emotions simmer under the surface as Cat dissects her own experiences – "Waster' is about an internal battle with myself where the stronger, more driven side of my personality wants to kill the weaker side." 'Waster's angsty vibes manage to integrate a darker and more cynical side of the artist, underpinned by a sense of danger always lurking in the shadows. If this track is anything to go by, her debut EP is likely to prove unmissable.