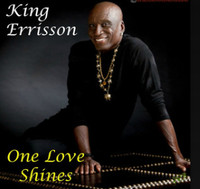 King Errisson has rubbed artistic elbows with some of the last century's preeminent musical talents during his career. He's a long-standing member of Neil Diamond's touring ensemble, a former featured performer in The Incredible Bongo Band, and has collaborated with Hall of Fame vocalists and songwriters such as Diana Ross, Smokey Robinson, and The Temptations, among others. This sort of weighty pedigree promises a lot and Errisson more than delivers with his single "One Love Shines". It's another tasty solo release in a wide-ranging catalog that, in recent years, has turned to a particularly potent mix of island influence pop music, funk, and jazz and highlights the skills that have landed his songs on Diamond's studio albums, as well as those by Eddie Kendricks and Flora Purim. Despite being decades into his career, King Errisson shows no signs of slowing down or diminishing love for his craft.
URL: http://www.kingerrisson.com/
There's a nice mix of gravitas and emotion in his vocal and the cool, confident way he navigates listeners through the song proves to be the primary highlight of "One Love Shines". In the hands of a lesser artist, these fine lyrics wouldn't have likely lived up to their potential and the overall treatment of this subject matter would have likely rang hollow. He particularly excels during the physical, yet tasteful, chorus and his voice and the musical instruments move together with a seamlessness all listeners will enjoy. It's a voice that has a decidedly bluesy tint to its tone, but it's ideally suited for a variety of forms, especially R&B and soul. The production captures the grain in his voice and nuance laden phrasing while maintaining a perfect balance between the vocal component of the song and the musical arrangement. Few modern singles, in any style, come across as unified, with every aspect given proportional weight of importance, as "One Love Shines" and Errisson's vocal enjoys fantastic lyrics to work with.
The music is pure R&B spiked with a slight reggae-ish or ska swing in its rhythm. The melody has a familiar clipped quality we associate with that style of music and Errisson never sounds anything less than credible with the sound. It's ample of evidence of the aforementioned vein dominating Errisson's songwriting sound for some time now and the smooth polish present in this song shows he's long since refined this approach. The punchy brass section fills woven into the arrangement compete with some understated guitar for the song's top line melody layers while the rhythm section, particularly the drumming, has a wickedly well defined quality that holds listener's attention from the first. King Errisson's new single release "One Love Shines" is full of the passion that's always characterized the best of anything Errisson has involved himself with as either a solo performer, writer, or supporting artist. He's starting off 2018 on quite an auspicious note with this outing and will likely build impressive momentum from here onward.
YOU TUBE: https://www.youtube.com/channel/UCETYWquoOrIP2UpfkEYzbYQ
William Elgin