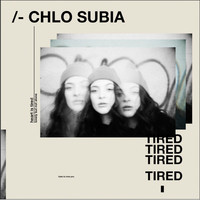 Tired is sure to heal a lot of wounded hearts with soulful tunes of Chlo Subia. Listen and Enjoy!
Every one of us feels vulnerable at some point in time in our lives. No matter who we are, what we do, or where we belong to – we still feel pain, sorrow and suffer from loneliness. "Tired" is a deep expression, a musical melody, a melancholy manifested in the gospel choir, composed by Chlo Subia.
Based out of Los Angeles, Chlo Subia hit fame pretty recently with a series of released songs last year – Wrong Side of Love, You We I, U Tell Girls and 5 Minutes. "Tired" is the latest creation to unleash from Subia's stable, with ample support from well-renowned musician Stevie Mackey.
The song has been co-written and produced by Druski. Druski is well famed for multiple Grammy nominations and has a handful to his credit like Zendaya, Tori Kelly, Nick Jonas and Teyana Taylor among others. Chlo Subia has been making waves across various social media spheres with her beautiful voice and equally good looks.
"Tired" is a sad story about an unfulfilled wish of a vulnerable heart. It is all about how vulnerable we all are to the very core of our own self. The audience should easily be able to correlate with emotions like sadness, grief, confusion, despair, disbelief, and hope, which we often encounter when we feel heartbroken and lonely.
It expresses the pain one experiences after going through a failed relationship, a painful breakup, and especially for those who are still madly in love with their lost souls. It expresses the reality of how difficult it is to forget those people and moments, which are so special and close to our heart, which keeps us reminding of them, no matter how far they have moved away from our lives.
"Tired" is a story of a tired soul, who is always belonging and craving for love, with hope to find solace someday, but very well knows deep within that what's gone is lost forever. "Tired" provides strength and support to every heartbroken soul, to help them endure and be resolute in dealing with the crisis. Its melodious tunes and heartwarming lyrics provide a soothing relief and a healing touch to the crying and wounded heart.
"Tired" shows a way to express vulnerabilities of our heart and reach out for support, whenever in need, and in the process helps millions of heartbroken souls realize, that they are not alone in their struggle and that it's simply a passing phase to mold them to become stronger and mature.
"Tired" is certainly not a song, which is going to let every partygoer dance to their tunes. But it is definitely going to touch a lot many souls, especially a lot many teenagers and young adults, who are more likely to suffer from painful heartbreaks too often. This is a song, which many of us would like to listen and enjoy, in a quiet and recluse environment and relax, which will help to heal our wounds and hold the tunes at a very special place in our hearts.
– Joseph Burns