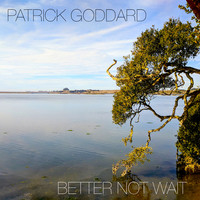 Patrick Goddard's "Better Not Wait" possesses an infectious pop, one delivered with the utmost of urgency. Incredibly thoughtful, the abstract lyricism works wonders for a narrative comes from these many pieces. The unfolding nature of the story focuses upon seeing friends spiral out alongside the concept of carpe diem. Nicely framing this is a pop punk attitude that helps to further emphasize the journey. Guitar work has an insistent quality to it, as the riffs drive away with such passion. Rhythms rush through as if in a fantastic blur, nicely anchoring the overall impending sense of chaos that appears to take hold of the entire track.
Not a moment is wasted for Patrick Goddard sets the mood really quickly. Grooves have a jerky, almost Devo-esque quality to them. Patrick Goddard's vocals feel reminiscent of Thurston Moore's, as they neatly combine a snotty attitude with a tender, compassionate side. Such a deft trick is hard to pull off for most vocalists, but Patrick Goddard does so with the utmost of ease. Layer upon layer of sound comes into the mix for the tempos feels pushed to the absolute brink, as the chaos is only just barely controlled. Over the course of the piece Patrick Goddard flirts with an almost inevitable collapse yet manages to ensure that the track stays in a beautiful, life-affirming sort of way.
https://patrickgoddard.bandcamp.com/album/better-not-wait
On "Better Not Wait" Patrick Goddard chooses a unique approach, one that feels so real and with a message that is so vital.