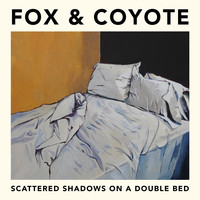 Blue Marble is a unique composition by Fox & Coyote from the album Scattered Shadows on a Double Bed. Listen & Enjoy!
The band Fox and Coyote are based in Minneapolis and formed by a group of talented musicians who have been composing many popular tracks for the past ten years. With immense knowledge in musical notes and rhythmic melody the band comprises of the unique couple, Ryan Evans on lead vocals and guitar and Jonathan Harms on lead vocals, banjo, and keys, alongside Katherine Canon on the cello and vocals, Grant Gordon with upright and electric bass, and Kenny Befus as the drummer. This band of innovative stars released a new single ''Blue Marble'' from the album Scattered Shadows on a Double Bed which has already run on the path to a massive hit among the masses.
This tune is a whirlwind of feeling and resonating sound. At to start with, it appears to be sufficiently uniform, with a lovely opening that has a mind-boggling layered sound. The more it goes on the tone shifts. It picks up a climactic quality that abandons its audience uneasy, both because of the dueling sounds and rhythms and the frightful vocals. The last moment of the tune is calm and smooth which glides through the delicate tune, which adds to the dreamlike inclination this melody has.
There is a level of misery and fear that washes over as one tune into the "Blue Marble" that may appear to be disagreeable at the beginning. Yet it ends up getting a charge out of the melody because of its amazingly synchronized tune and background musical association. Submersion is a dubious apparatus that Fox and Coyote aced in this track, plunging straight into a story and a world that doesn't exactly exist. It's a confounding background that can be discovered extremely amazing. Anything that can influence one to feel such a great amount of emotions without requesting that one can relate to their own encounters which have a lot of energy to it
The video for "Blue Marble" might seem to leave a disrupting and abandoned feeling which is more befuddled by the story behind this melody. But as the video progresses it feels more convincing and crude in a way that one has to feel his feeling overflow with the flow of the rhythmic chimes. 'And I wonder if the moon looks down on us in fright / I guess we make a pretty light,' is one of that instance which takes the song on a natural flow of emotions and life.
Each word is sung with such enthusiasm and quality, it's amazing, yet the second piece of this verse is the one that emerges the most. It has such power, it can charge up even the dullest phase. In case the mind is concentrating on something different, that line will drag the mind over into this complicated world that Fox and Coyote made.
"Blue Marble" is a completely exceptional affair that is the interesting and profoundly layered melody that numerous might search for. Fox and Coyote have gained an authority of complex rhythms, perplexing music, and capable vocals that make such an aggressive sound they have work perfectly.
https://www.facebook.com/foxandcoyote/
-Jessica Mason