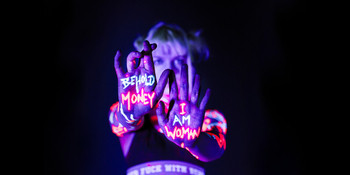 The young eccentric Jenny Rossander pictures herself as a general troublemaker, which is probably the best way to describe her iridescent personality and countless creative activities. But all of her works revolve around her solo project Lydmor. With several Scandinavian releases, which have been put our to a decent success, she is now ready to share her music with the world and invites every open-minded listener to join her.
Today released Money Towers is a first glimpse into the concept of her upcoming album 'I Told You I'd Tell Them Our Story'. The song stretches from club vibes to reflective introspection; melodically captivating synth-stabs, exotic drum programming and Lydmor's descriptive lyrics presented with her strong voice capture the song's ambiguous nature. Money Towers is about being seduced by a world while knowing that this isn't good for you. The track was premieres via The Line Of best Fit yesterday.
The video for Money Towers has been shot on location in Shanghai and Copenhagen. 'As I am now launching the first part of what I believe is my biggest project to date, making the video was quite hard and I had to do a lot of extra work to get the results I wanted. We went to Shanghai and filmed a lot, and then did some extra footage when we came back. I wanted to capture the confused mystery of what I've experienced. I ended up editing this video myself, simply because it was easier that trying to get someone else to understand the images in my head.' says Lydmor about the video.