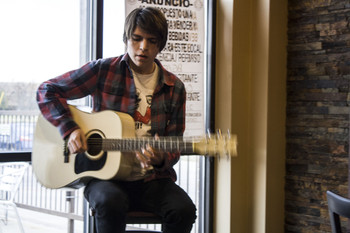 Music is one of the best careers anyone can have, which also happens to be one of the oldest professions around. Whether you're a good vocalist or you're pretty good at playing certain instruments, you can earn money with music in many ways. It doesn't even need to be your main profession. But how exactly can you make money on the side using your music skills? Being precisely the point of this article, here are 5 tips to making money on the side playing music.
Musician Tips For Making Money on the Side
1. Record and Sell Your Music
Undoubtedly, it takes some time and money to record music into CDs, DVDs, vinyl, and digital copies, market them, and then sell them, but you will make some money if you make it big! If you trust your skills enough, there's totally nothing wrong with working with a record label to promote your music. This is how most entertainment stars are born. You can sell your CDs, vinyl, and digital copies online through your website or through popular online music stores like Bandcamp, Amazon, and iTunes at a commission from your earnings. Performing with your recorded music in busy places such as in public spaces, social gatherings, and sporting events can also be a great idea. You may want to consider starting a crowdfunding campaign to raise money for your music project or side career.
2. Play in Live Events and Concerts
Events and social gatherings are other awesome platforms to make side money playing music. Private events such as weddings, graduation parties, anniversaries, and house parties often require entertainment. Especially if you play in a band, opportunities for live performance entertainment in these and corporate events are numerous.
Also, playing cover gigs at restaurants, bars, and other social places can earn you some good extra money. You can even bring your recorded music along and make some sales from a strategic location after the show. I mean, there are many avenues to earn cash from live performance. Ticket sales, for instance, are a great tool for that especially if you've made yourself some fans and are starting to become popular. Online concerts, which are live shows broadcasted online can as well, compensate you for your skill.
You can even grow your skill to an entertainment company. Event planners, private event holders, and corporate organizations are often looking for entertainment agencies. Entertainment Nation, for instance, is a good example of a leading entertainment agency that offers such services.
3. Royalties, Private Rights, and Licensing Fees
Advertising is another creative avenue that can pay you for your music. Play music, record it, and seek corporate can pay you for the rights to use this music in their advertisements. You've probably come across these on YouTube. TV shows, commercials, and films also pay for using your music in their projects. These are known as synchronization rights.
4. Merch
This is another popular way musicians make money. It includes promoting brands using your music through merchandising. If you start gaining popularity, your fans will love getting something that comes from you or has your name or logo printed on it. You can also start your own clothesline, footwear, jewelry or cosmetics brand and use your music to promote it.
5. Teach Music
If you're an advanced guitarist, pianist, drummer or an expert in any other type of music, you can also teach your skill to others for a fee for some extra income.
In addition to these 5 tips, there are many other avenues for making money as a musician.