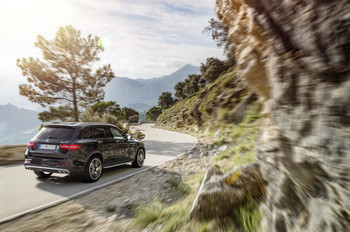 Buying the right car is often a daunting process. This delicate task calls on you to factor in such pertinent aspects, for instance, the reliability, durability and the make, model and of course, the costs of the selected car. You also need to decide if you want to buy a pre-owned car, like a good used van for sale or the brand-new model of the year. Either way, make sure you take advantage of your money and manage it the best way possible.If you've been planning to get a brand-new automobile, then, here's your golden opportunity to learn about the most outstanding cars released and sold in the recent years. Hopefully, our buyer's guide will ease the burden and task of scouting for the latest and most impressive car models. Read through this enlightening article and also learn how you can partner up with experts at the Florida traffic school and have your outstanding tickets dismissed and scraped off before acquiring the brand new machines.
The Mercedes AMG GLC 43-4matic
This high-performance Mercedes blends in a perfect balance of functionality and raw power. The impressive vehicles are available as the GLC43 and GLC63, comes with a robust 362-hp twin 3.0-liter V-6 engine with a 469-hp 4.0-liter twin-turbo V8. The Mercedes is both elegant and stylish and it will leave heads turning as you comfortably cruise the streets, not having to worry about your gas pedal getting stuck on a FL freeway. Also, you'll take great delight in the comfortable sports leather seats with red stitches. The Mercedes' steering wheel is flat-bottomed and comes complete with paddle shifting features. The slight drawback of buying this car is that it's a huge fuel guzzler. This remarkably fast models will debut in the mid of 2018.
The BMW X6 M
If you're in the mood for a beautifully designed car that packs in tons of horsepower, then you need to consider the MW X6 M. This sleek car comes with a remarkably plus interior defined by all leather seats. The 5000-pound car provides a 100% torque thanks to the V-8 with a 567 hp twin turbo V8 engine. The BMW series has the capacity to shift up to 8 speeds and four-wheel drives, regardless of the driving conditions hence the Mighty Quick nickname. The BMW has a robust acceleration capable of taking it from zero to 60 mph in just 3.8 sec. the sleek car reaches top speeds of about 156 mph when fitted with speed governors. The X is a remarkably stable car with an impressive torque and a topnotch infotainment system with a touchscreen.
Audi Q7
The Audi Q7 is a super spacious and remarkably comfortable car that has excited the masses. The agile award-winning car is powered by a 252 horsepower 2.0-liter turbo. The vehicle's come with a four-wheel drive capacity and they automatically clock up to eight speeds. The Audi has a state of the art infotainment system that allows you to use either Android or Apple technologies to entertain yourself and other inside the Audi. What's more, the Audi has excellent handling even under extraneous conditions. This car is, however, not as fuel efficient as consumers would have loved it to be.
Bentley Continental GT
The Continental GT is available as either a four-seater coupe or a convertible. The powerful, albeit, sleek GT has a 500 horsepower W-12 engine with a 6.0-liter capacity. The Bentley comes from a long line of amazing cars that rarely disappoint. The Continental GT blasts from -6 mph in 3.6 seconds while clocking top speeds of around 207 mph. The latest GT weighs slightly less than its predecessors as its more fuel efficient. The vehicle ships out with a pimped-out interior that is defined by leather all over. The car also has an advanced infotainment center that allows users to conveniently and safely listen and enjoy to their favorite jams while on the road.
Rolls-Royce Ghost
If you're in the market for superb performance coupled with sheer impressive looks, then, look no further than the Rolls Royce Series 2. The Royce comes with a top performance 6.6-liter engine with 563 horsepower that works on a V12. The car has a GPS enabled and controlled gearbox to suit all your driving needs. The car's leather interior is perfect and sumptuous. The attention to detail in this car is breathtakingly amazing. It blasts from rest to 60 mph in 4.7 secs and the Ghost clocks top speeds of 154 mph.
Bottom Line
Considering the humongous costs these high-end, latest car models go for, it's best to consult extensively with the people in the know before removing your checkbook at the dealers. Ask the professionals working at places like Florida traffic school about how you can score exquisite refinancing, ticket dismissals, and great warranty deals for the cars. But, you can also go for the impressive models listed above as they never disappoint, and their prices are not all that stiff.