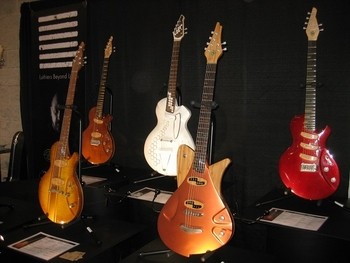 If you're in anyway involved in the music or entertainment industry, you need to join NAMM.  The winter show in Anaheim featured close to 2,000 (manufacturer and distributor) exhibitors with 7,000 brands, some 115,085 attendees, and offered 500 educational sessions.  Some of the highlights were, the She Rocks Awards, Tec Awards, John Lennon Educational Bus Imagine Party, The Parnelli Awards, and the Celebrity Jam.  Individual performances included Bootsy Collins, Gary Hoey, Melissa Etheridge, Michael MacDonald, Bob Weir, OK GO, Marc Broussard, Sam Moore, and Andy Grammer.  Walking around you could encounter or meet these people, and others like George Clinton, Jimmy Church, Rick Nielson, Michael Anthony, Alex Skolnick, Mike Portnoy, and Doyle Wolfgang Von Frankenstein.
GUITARS
PRS – PRS is introducing six versions of the SE acoustic guitar line in addition to the Mark Tremonti MT15 two channel amp powered by 6L6 tubes, with five gain stages before the Master for full, lush distortion, a gain channel, and clean channel with push/pull boost control that adds a little overdrive for old school crunch.  Additional features include an effects loop and bias adjusters that are accessible from the back panel for ease of servicing.
Zematis – In addition to the custom metal topped pieces, they have a new line of solid body LP style guitars available in numerous colors.
Ibanez – They're commemorating their 40 year association with Paul Stanley with the Paul Stanley "Diamond" 40th Anniversary PS1DM, with more than 1,400 rhinestone pieces, and 30-years with Joe Satriani with the new JS1CR30, a badass 'Chrome Boy' with a SUSTAINIAC® Driver, DiMarzio® Satchur8™ pickup and an Edge Trem.  Also, the new AZ series features a nitrogen heated neck.
Yamaha – The FG Transacoustic Series guitars are designed to further amplify tone without using an amp.
D'Angelico – Offering their first solid body series, the Bedford, Ludlow, and Atlantic.  Great looking and sounding stuff!
Peavy – The have the purpose built for slide playing, Powerslide Guitar series, including the Robert Randolph signature model.  Another new series is the Composer Acoustic Series with an offset sound hole for improved volume and bass response.
McPherson – A series of carbon fiber guitars with a no-touch neck design and precise intonation system.
Luthiers Beyond Limits– Alquier, Beauregard, Klein, Matsuda, Pagelli, and Tao have teamed up offering their one-of-a-kind beautiful custom built high end guitars.
Minarik – They continue with a gorgeous line of custom made guitars and basses including left-handed versions. The Studio X-treme offers six unique models, and the Super Custom Series offers 22 models, including acoustics.
PEDALS/EFFECTS
Trinalog – Trinalog Effects Station is an App-Controlled, Cartridge Based Analog Effects Platform for guitar players that dramatically reduces the weight, and complexity of using traditional pedals without digitalizing the sound. Apply presets and cloud storage, making tone settings sharable and easy to learn.
Logjam – A line of various versions of foot-tapping percussion sounds for instrument accompaniment.
Sonic Farm – Offers a bunch of versions of preamps, direct boxes for instruments and vocals.
AMPS
Seymour Duncan – The PowerStage comes as a 700W rack unit, and a 170W version that fits on a pedal board.
ELECTRONICS/KEYS
Mackie – The MDB Series offers the MDB-1P Passive Direct Box for guitars, basses and more on stage or in the studio. The MDB-2P Passive Stereo Direct Box has dual inputs and outputs for stereo sources. The MDB-1A Active Direct Box features active circuitry for ultra-low distortion and noise. The MDB-USB USB Stereo Direct Box features a USB input and dual XLR outs for maximum audio quality direct to front of house from a laptop.  Also, the battery-powered MTest-1 Cable Tester and M48 48v Phantom Power Supply are great audio tools.
Zivix – Jamstick has 7 and 12 fret fretboard midi compatible guitar simulator.
Avid – New recording software versions, Pro Tools 2018 digital audio workstation, Sibelus 2018 composition and notation, Avid EUCON, and Waves SpoundGrid High Density.
Presonus – StudioLive Series III allows you to mix live wireless, multitrack record, and mix and master recordings.  The Studio Series Recording Systems feature Studio One Artist DAW and Studio Magic plug in bundle.
OWC – A great bunch of MacBook power, optimizers, and backup products!
IK Multimedia – The iRig Series has a USB pedalboard controller with audio interface, keyboard controllers, a series of various interfaces for phones and laptop/pads, software and apps.
Rock N Rolla – A really cool line of retro portable record players that can interface with virtually every kind of device.
ACCESSORIES
TV Jones – Well known for their Gretsch replacement pickups, they have the new Starwood Series as well as the Brian Setzer Signature Series.  In addition they offer a line of bass pickups.
Tonik Sound – PULSE attaches to an acoustic guitar and modifies the vibrations within the body of the instrument. Delay, distortion and reverb come straight from the guitar with no pedals, wires or amps.
PERCUSSION
Singular Sound – The BEATBUDDY is a unique stomp box unit that allows you to program, play/change drum tracks.
Yamaha – The EAD10 is a revolutionary simple compact mic and trigger system for acoustic drums. Instantly transform your acoustic drum kit into a powerful digital/electronic hybrid with sampled sounds and studio quality digital effects.
Pinch Clip – A new quick way to attach and de-attach cymbals.  No tools required!
Slaperoo – The Slapstick is a hand held broom-handle gadget that can be played like a bass guitar by slapping.  Very interesting, and sounds great.