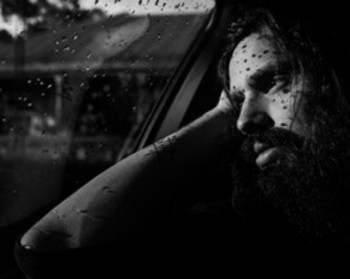 Start with the voice: fragile, passionate, yearning but comforting, equally suited for storytelling and whispered confessions. It's a voice that demands an acoustic setting – one gentle as a bird's wing – and Harp Samuels's guitar and gossamer production provides a perfect accompaniment for his aching melodies. The sound is so rich, full, and engrossing that it's hard to believe that the music and the message is as straightforward as it is. But it is, and that's the secret to Samuels' artistry. He's a disciple of beauty in all its forms, and his records are arrows right to the heart of his fans.
"Fire" and "Secrets," the first two singles released from the upcoming Wanting album, are prime examples of why the Australian-born songwriter is an irresistible force. Sweet as summer fruit but underpinned by longing, they're redolent of stripped-down records by Bon Iver and Sigur Ros while imitating neither. These are statements of universal love and salves for emotional wounds. Harp Samuels is an angel on the shoulder of his listeners, purring words directly into their ears, and their minds. He engenders a feeling of intimacy and exclusivity: people who hear him tend to want to keep him like a secret. But his music belongs to the world.
Samuels is multitalented, too: he's a filmmaker and a visual artist as well as a musician. Just as he's enchanted by the simple gorgeousness of music, he's smitten by the beauty of the natural world – and natural light, too. The videos he's made for the songs on Wanting are bathed in sunshine. Through his lens, he chases illumination between leaves, across wide landscapes, and even through the folds at the hems of the thin summer dresses of winsome women. At times, his frames are overwhelmed with sheer radiance and warmth. It's a perfect analog to the sound of the songs: this is the music of daylight he's making, and every frame is a still from a waking dream.